Columbus, Ohio, is a fantastic place to enjoy the bounty of majestic rivers, lakes, and reservoirs in the state. These top places to kayak in Columbus will give you an authentic taste of nature and allow you to have fun and stay fit with the whole family. Our list represents plenty of different activity levels, so there's definitely something for everyone on it.
For more kayaking destinations nearby, check out our post on the best places to kayak in Ohio here.
1. Hoover Reservoir, OH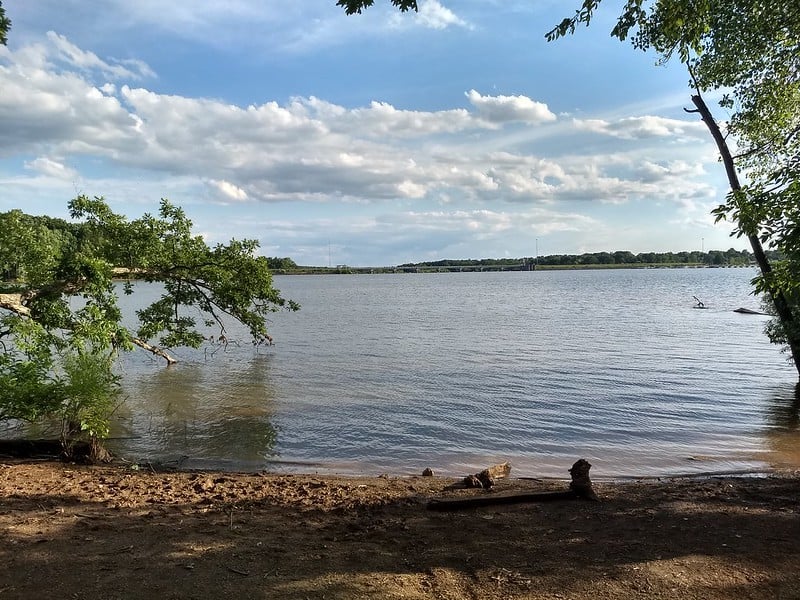 Hoover Reservoir is a great, hidden gem in Ohio where you can canoe and kayak to your heart's content. It's a good kayaking place for those who are new to the sport as well. This reservoir was created courtesy of the Hoover Dam and is a short drive from Columbus. There are plenty of companies that can take you out on the reservoir, or you can simply do it yourself.
The reservoir is over 3,000 acres, and there's a strict ten horsepower limit within the waters, so it's reasonably safe for those in smaller crafts. Get into the reservoir at any of their launch areas or ramps. If you don't have your own kayak, you can rent one for a half or full day. These kayaks are fully set up with life jackets.
You can also take kayaking classes if you wish. The only real downside of the Hoover Reservoir is that it's not very shady, so bring plenty of water and sunscreen, and you will have a great time.
2. Scioto River, OH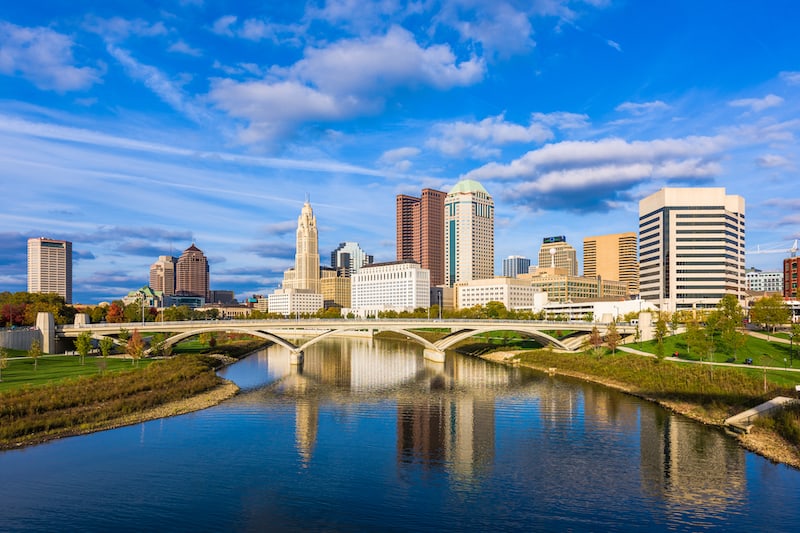 The Scioto River is one of the most popular places in Central Ohio to go kayaking. You'll find it highly accessible, with plenty of on and off ramps all over the river. The route itself is beautiful, full of both sunny and shady spots, and there's plenty of wildlife. Like other options on our list, you can rent a kayak or bring your own.
Although there tends to be plenty of traffic on the river, most of it is moving slowly. This means that you don't have to watch out for problematic situations involving big wakes or collisions. Instead, just prepare yourself for a lazy, fun day enjoying nature.
If you're worried about getting back, you can always go with a tour company or have a friend meet you further down the river. The Scioto River has some tricky areas but is okay for novice kayakers and interesting enough for those with a little more experience.
3. O'Shaughnessy Reservoir, OH
Drive nine miles northwest of Columbus, and you will find the O'Shaughnessy Reservoir. This reservoir was created by the O'Shaughnessy Dam and is part of the Scioto River. Like the Hoover Reservoir, you can rent kayaks all over the O'Shaughnessy Reservoir or bring your own. Rented kayaks will include life vests, and you can get solo or tandem ones for your adventure.
You can rent kayaks for a handful of hours at a time and get kayaking instructions if you choose. The O'Shaughnessy Reservoir tends to be reasonably popular, so it's a good idea to book in advance. There's a small fee for launching your own kayak, and rentals cost roughly $20.
As with the Scioto River, you're likely to see a lot of wildlife in this part of Ohio. If you're a nature lover, this reservoir was made for you!
4. Alum Creek, OH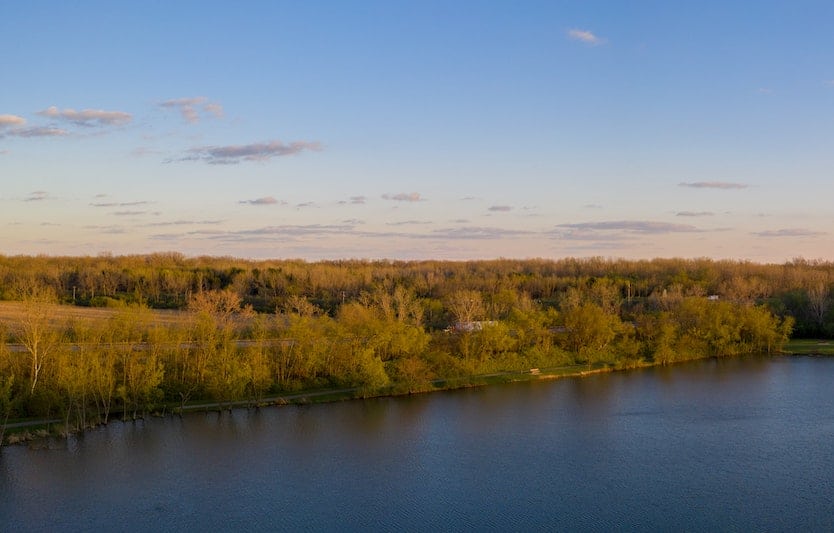 Alum Creek is just seven miles away from Columbus and arguably one of the best places to kayak in the region. Since it's very popular, you could run across other kayakers on your journey. Although some areas of the creek are a little more challenging than others, it's safe for moderately good kayakers. If you're a beginner, you can take lessons on the creek.
Beginners are not advised to go kayaking by themselves on Alum Creek. If you're unsure about your skill-set, you should definitely have a partner. Expect a lot of company on Alum Creek. This spot attracts paddleboarders, kayakers, and people in pedal boats. Although it tends to be congested, the traffic moves slowly.
If you venture to Alum Creek Lake, you'll find a vast array of coves and inlets to explore. This lake was made in the 1970s by the Army Corps of Engineers. There are bigger boats on the lake, which can be intimidating for novice kayakers.
5. Mohican River, OH
The Mohican River is just a little further away than Alum Creek, and it offers quite a selection of watersports. Unlike some of the other options on our list, you won't find too many big boats on the river. On the contrary, the Mohican River is famous for tubing and rafting. Kayakers should watch out for these smaller crafts and give them the right of way whenever possible.
Mohican River has plenty of shaded areas, making it a welcome change from some of the sunnier spots we've highlighted. There's also plenty of things to do on the banks of the river itself. If you want to kayak for a part of the day and relax with your family later, there are campgrounds and activities available.
6. Big Walnut Creek, OH
Big Walnut Creek has one colossal draw; its stunning views. This straightforward course is almost all downstream and is an excellent option for beginner kayakers. More experienced kayakers will appreciate the leisurely flow of the creek, as well as the scenery.
Expect to find a lot of wildlife in and near Big Walnut Creek. Although it's not advisable to swim in the creek itself, you will be perfectly fine cruising on top of it. There are places to rent kayaks all over the creek, or you can bring your own. You'll find mostly canoe enthusiasts and kayakers on Big Walnut Creek, but don't be surprised if you see a paddle boat or two as well.
7. Buckeye Lake, OH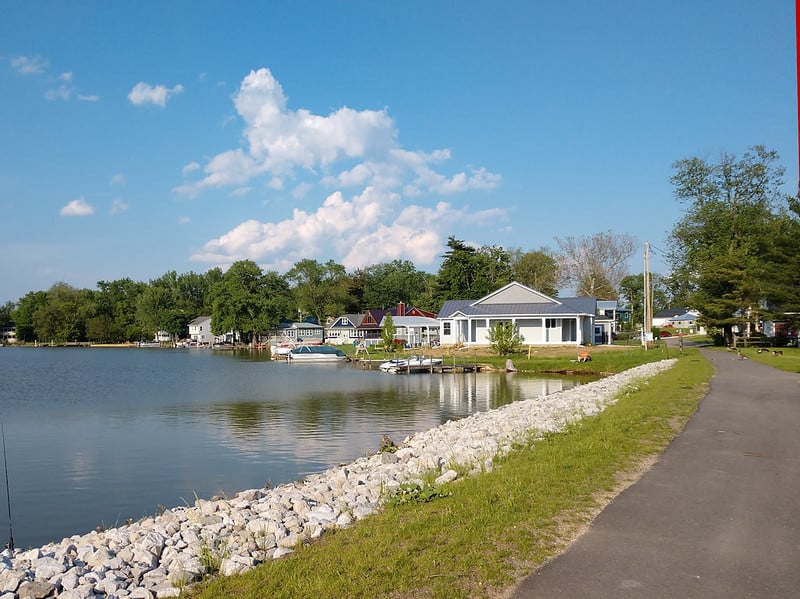 Buckeye Lake is technically a reservoir that stretches across Perry, Licking, and Fairfield countries. It's part of the Erie Canal and holds a vital place in Ohioan history. While the original purpose of the lake is long gone, it's still a very popular place to come to explore nature and get a workout in.
Buckeye Lake is a recreational watersport hub. It's a popular place to fish, boat, canoe, and kayak. This vast lake has several islands in it, so you can always dock your kayak and pick up lunch on the go. Plan to spend the majority of your day at Buckeye Lake, especially if you want to do some exploring.
Buckeye Lake is an excellent option for experienced kayakers since it can get really busy with larger boats. It's a good idea to familiarize yourself with boating regulations before heading out. Also, since the lake is so big, use the buddy system. Always kayak with a friend.
8. Hocking River, OH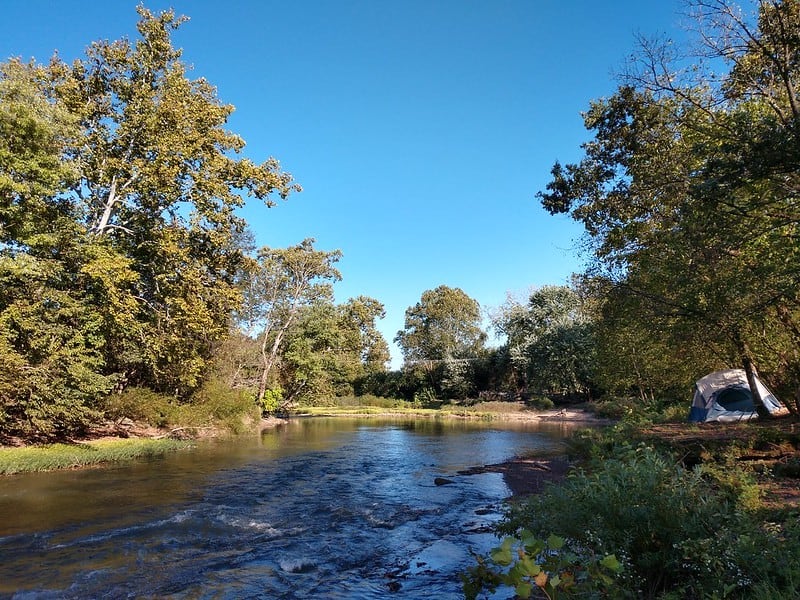 This 102-mile river snakes through the southwestern part of Ohio and is an easy drive from Columbus. You'll find all manner of adventurers on Hocking River, including tubers, kayakers, rafters, and even boats. It's a class I river, but there are still some tricky spots. Hocking River has rapids and rocks, so it's best for intermediate or more experienced kayakers.
You can rent kayaks virtually anywhere on Hocking River or bring your own. You can also schedule an all-day kayaking trip with an expert. Some companies even offer tour packages. You can experience kayaking, ziplining, and camping all in one go.
This is a great place to bring the family, and many people like to stay for several days.
9. Olentangy River, OH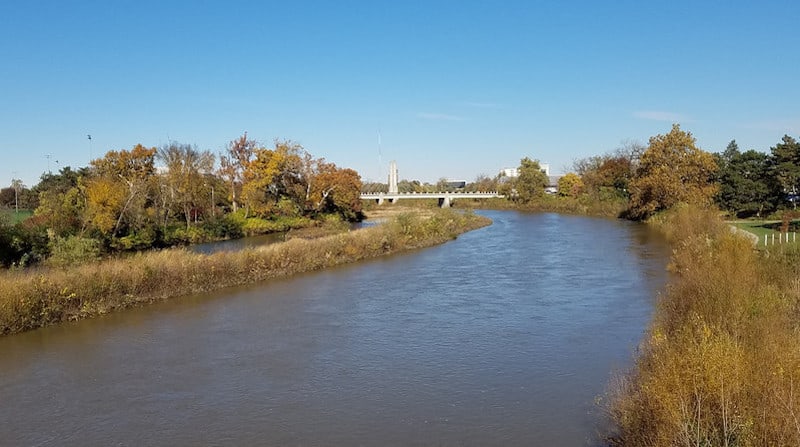 The Olentangy River is a favorite destination for canoeing and kayaking. Since this river gets up to a class II in difficulty, you shouldn't attempt it if you are not a skilled kayaker. Even intermediate-level kayakers should go with a partner.
The Olentangy River can be somewhat unpredictable, but more experienced kayakers can undoubtedly tackle it over the span of a single day. Since it tends to be sunny, especially in the deep summer months, you should be prepared. Bring ample water, food, and sunscreen.
You will need some physical aptitude to take on the Olentangy River, so it's a good idea to do less challenging kayak trips first.
10. Big Darby Creek, OH
Big Darby Creek is one of the premier kayaking destinations in Ohio and probably in the Eastern United States. It has the distinction of being a National Scenic River. Big Darby Creek is home to a massive array of fish and other wildlife. Nature enthusiasts will love spotting fish, birds, and turtles there.
It's also a good spot for beginners, as the vast majority of Big Darby Creek is shaded and easy to navigate. You can rent kayaks right on the creek and learn about the importance of Big Darby Creek from expert guides.
Summing up the Best Places to Kayak Near Columbus
If you're in Columbus, you don't need to travel too far to experience natural splendor. These ten best places to kayak will give you a great break from the city and test your skills. There are fantastic options for people of all fitness levels.
Take a day trip, camp out, or simply get out of the city for a few hours.