Detroit has some of the largest inland water bodies in the US. It's a paradise for paddlers with multiple rivers and over 500 lakes, providing a much welcome getaway. It's no wonder kayaking in Detroit is gaining more and more popularity.
Paddlers can choose to kayak in the white waters of Detroit rivers or the calm waters of Detroit lakes, where both experienced and novice paddlers can find their place. If you're looking for the best places to kayak in and around Detroit, here are 10 of the best destinations.
For other kayaking locations nearby, check out our post on the best places to kayak in Michigan here.
1. Detroit River, MI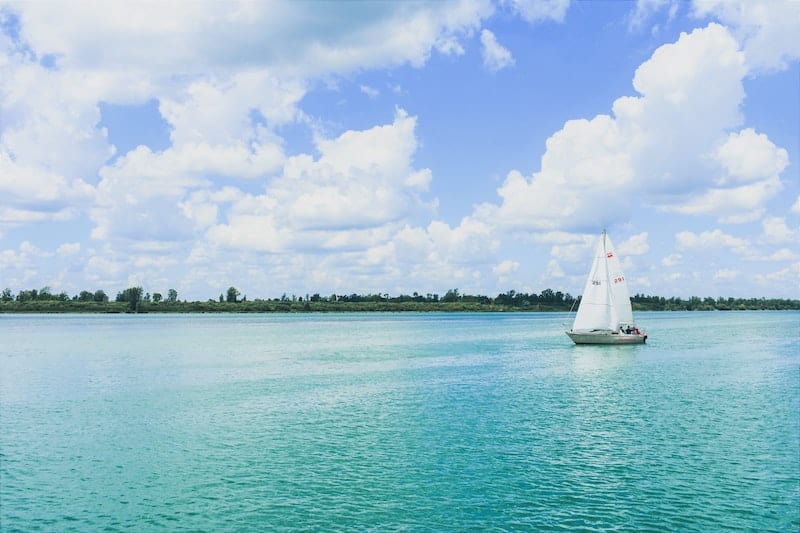 The Detroit River is one of the largest in Detroit, connecting multiple lakes in the region and forming the border between the US and Canada. The river is half a mile at the narrowest point and two and a half miles at the widest point. The water flows slowly, making it suitable for novice and family paddlers.
There's a small island in the river called Belle Isle where you can kayak or canoe. Here, you'll enjoy a beautiful view of the Detroit and Windsor skylines in Canada. After kayaking, you can enjoy a picnic, take a hike or enjoy biking.
Paddlers need to be aware of the ocean-going freights and boats that pass through the river during summer. Also, being a border point between the US and Canada, you need to be careful not to drift away to Canada.
If you don't have a kayak, you can check rent one from either Detroit Outpost or Detroit River Sports.
2. Clinton River, MI
Clinton River crosses through four counties – Oakland, Macomb, Lapeer, and St. Clair. It also flows through many lakes before emptying into Lake St. Clair.
You can enjoy viewing the wildlife such as heron, trout, and mink as you paddle through the cold and clear water of Clinton River. The river has excellent water trails for both experienced and new paddlers.
From Oakland to Macomb county, the Clinton River has rapid flows of classes II and III. This part is best suited for experienced paddlers. However, as the river flows down towards Macomb County, it gets gentle, forming calm and suitable floodplains for novice paddlers.
Also, if you don't own your own, kayaks are available for rent from the Clinton River Canoe & Kayak.
3. The Huron River, MI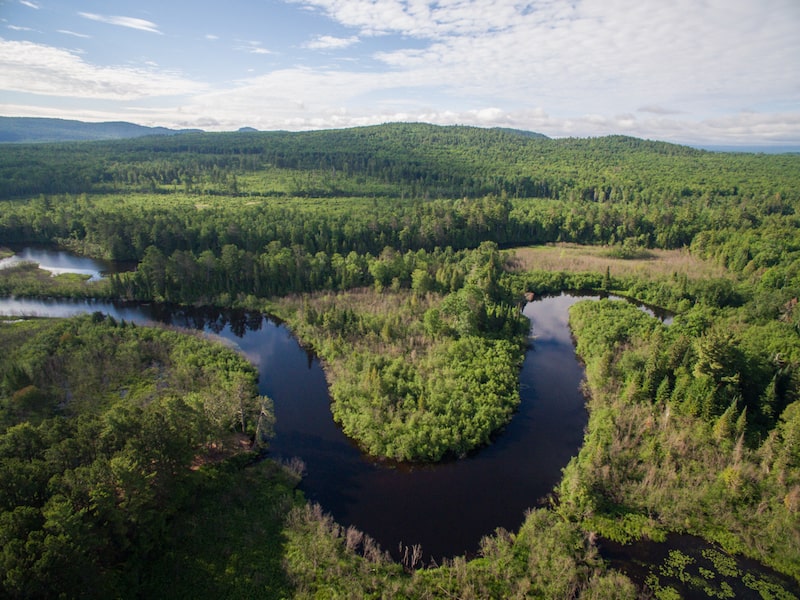 Paddlers of all experience levels are likely to enjoy the variety provided by Huron River. Paddlers can choose between white water rapids to gentle and calm water. The river provides many trips for paddlers to choose from.
The Huron River has a 104-mile stretch flowing from the rapids of Delhi and Dexter to Lake Erie. Along with kayaking and canoeing, the paddling trail provides an opportunity for paddlers to interact with nature. From the unique vantage of the river, you can enjoy beautiful scenes of wildlife and trees.
If you're planning to paddle a long section of the Huron River, you'll need a map to guide you through. The river has a very long navigable section that can take you five days to complete. Luckily, camping sites and BBQ joints are provided along the river.
In addition, kayaks are available for rent from the Argo Livery or Gallup Canoe Livery.
4. Stony Creek Metropark, MI
If you're looking for a peaceful and relaxing place to paddle away from the white waters, then Stony Creek Metropark is the place for you. Metropark extends from Oakland to Macomb counties covering 500-acre of Stoney Creek Lake.
Paddlers can enjoy a scenic view as they paddle through the quiet waters. Waterfowl, turtles, fish, and deer are commonly seen throughout the park.
Besides paddling, this place is excellent for biking, birding, fishing, golf, swimming, and hiking. It also offers playgrounds for soccer, volleyball, basketball, and golf. Winter sports such as snowboards are also available.
Novice paddlers are more likely to enjoy Stoney Creek Lake as its waters are calm. Kayaks, canoes and, paddle boats are available for rent from the park
5. Lake St. Clair, MI
Lake St. Clair is a 440-mile inland lake that shares a coast with Canada. The coastal trail starts at Grosse Pointe and stretches to Harsens Islands at the Canadian border.
There's more to enjoy on this lake besides an exhilarating paddling experience. You get to enjoy the beautiful sceneries surrounding the lake as you paddle. Birds such as tundra swans, blue herons, ducks, green-winged teals and ring-neck birds are common here.
There are many yacht clubs located along the shores of St. Clair, including Grosse Pointe Yacht Club, North Channel Yacht Club, and Clinton River Boat Club, among others.
In addition, you'll find several beaches where you can relax after paddling, including Belle Isle Beach, Marine City Beach, and New Baltimore Beach. Lake St. Clair is suitable for both expert and novice paddlers. However, beware of the motorboats that rove the lake.
6. Shiawassee River, MI
The Shiawassee River has slow-moving currents highly suitable for families and novice paddlers. The more experienced paddlers can try out the river's many twists and turns and paddle upstream against the current.
Paddlers get to enjoy the beautiful country scene offering wildlife viewing, rural residential, and wooded wetland.
The Shiawassee River is most exciting from Owosso to Chesaning when the water level is 2.5 to 7 feet. Paddlers can also enjoy paddling from Holly to Coruna when the river conditions are favorable.
In addition, visitors have access to camping and lodging facilities and canoes and kayaks for rental.
7. Blue Heron Lagoon, MI
If you're looking for a quiet place away from the hustle and bustle of the city, check out the Blue Heron Lagoon. It's a serene place where you can kayak all you want. The place is also great for hiking and enjoying nature's beauty.
The Blue Heron Lagoon tour in Belle Isle is great for kayak-tour beginners, primarily because the waters here tend to be calm.
Paddlers have the privilege to view historic structures such as the Detroit Yacht Club, the William Livingstone Memorial Lighthouse, and the Detroit Waterworks Water Intake.
8. Lake Erie, MI
Up next we have Lake Erie which is one of the largest lakes bordering the US and Canada. Lake Erie is pretty shallow, with the deepest part going up to 64 meters. It's not just suitable for fishing, but it's also great for kayaking and boating.
New paddlers can enjoy paddling on the shores of the lake, while more experienced paddlers can venture further inside the lake.
The surrounding community enjoys watching birds such as falcons, owls, eagles, and hawks. Kayaks are available to rent from the H2E adventures
9. Rouge River, MI
The Rouge River stretches from Canton to Detroit River. The upper side of the river is under development. It's packed with logs and is inappropriate for kayaking.
However, the lower side of the Rouge River is superb. You can enjoy about two hours of a good paddling experience from Melvindale Boat Launch past the Ford Rouge complex to the Detroit River.
Besides paddling, you can enjoy historical tours. You also get to view the automotive factory complex located along the river. In addition, blue herons and kingfishers are native to the area.
The Rouge River has a medium water speed of class II, meaning paddlers of all skill levels can enjoy themselves here. Again, if you don't have your own, kayaks are available at white water cowboys.
10. Newburgh Lake, MI
If you're looking for a less crowded area to go paddling with your family or friends, then Newburgh Lake is perfect for you.
Newburgh lake is located near Livonia in Metro Detroit. It's famous for fishing, but there's more to do here besides fishing. There's a great mix of paddling and picnic to enjoy for hours. It would be good to bring a camera with you as there's a lot to see.
Residents and visitors can enjoy the serenity behind the woods around the lake. As you paddle, you can enjoy viewing wildlife, such as Green and Blue Heron, Mallards, Cormorants, Geese, wood ducks, and mute swans.
Newburgh Lake comes with many amenities such as picnic tables, free parking, bank fishing, a boat ramp, and bathrooms. Kayaks and canoes are available for rent at Heavner Canoe.
Summing up the Best Places to Kayak in and Around Detroit
As you can see, Detroit has fantastic places for kayaking and canoeing. Therefore, if you're planning a tour to Detroit, have some free time during the summer, or are just looking for something new to do or to get away from the bustle of the city, you can try out any one of the places mentioned above. Whether you're a seasoned paddler or a beginner, you can find a suitable spot. You'll enjoy a view of the city's skyline and beautiful wildlife as you paddle.
However, remember that before visiting a kayaking site, it's vital to ensure the weather is favorable and to read the safety regulations provided by the local authorities. Most kayaking sites are suitable between May and October.