Indiana offers kayakers unique lake and river experiences. There are plenty of waterways in the city of Indianapolis and even more beautiful landscapes to kayak when you want to escape the city.
When the summer weather starts to hit Indiana, you'll want to take advantage of the gorgeous weather. If you want to enjoy the summertime heat from a kayak, check out ten of the best places to launch your kayak in Indianapolis.
For more kayaking destinations nearby check out our post on the best places to kayak in Indiana here.
1. Eagle Creek Reservoir, IN
You'll find Eagle Creek Reservoir in northwest Indianapolis, making it a short drive from almost everywhere in the city. Eagle Creek Park is the largest park in the town, with 1,400 acres of water, making it a popular spot for outdoor activities, including kayaking.
People enjoy paddling through the Eagle Creek reservoir because the waters are generally calm and easy to navigate. When you're on the water, don't be surprised if there are several other groups of people out paddleboarding, kayaking, or hanging out on land at the park.
You're more than welcome to bring your kayaks to the park, but if you need to rent one, Eagle Creek Outfitters has you covered. There are several access points throughout the park, but a popular one is right near Eagle Creek Outfitters.
2. White River, IN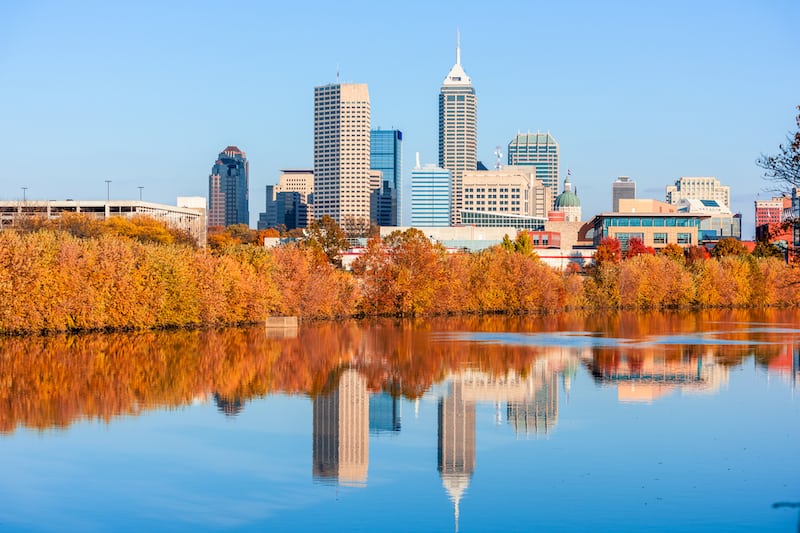 The White River runs through the center of Indianapolis. It's a popular spot for kayakers and those who want to float down the river in a tube. There are several access points on the river where you can launch your kayak and head downstream.
If you're looking to be on the river for an entire day, you can start in Perkinsville and paddle to Noblesville. It's close to 20 miles for this entire journey. You'll need to have a way back to your car if you do this without a tour guide.
A popular route on the White River is to make a half-day trip. The White River Canoe Company offers guides for the White River and provides shuttle transportation from the end location back to the start. This popular route takes you from Rusty Oar to Livery.
The trip is roughly six miles. The water moves at a comfortable pace for most paddlers. If you're on a guided tour, beginners will feel more comfortable in these waters.
3. Morse Park and Beach, IN
Only thirty minutes north of downtown Indianapolis is Morse Park and Beach. This reservoir is a popular outdoor space for people in Indy and surrounding towns. During the summer months, water activities reign supreme.
When the weather is nice, you'll see people swimming in the water, fishing, and boating. Many people launch their kayaks from the beach's shoreline, but there are a few other spots along the reservoir.
The waters here are easy to paddle through and are perfect for anyone of all skill levels. Since motorized boating is permitted at Morse Park and Beach, you may encounter some waves from them, but it shouldn't be anything too significant.
4. Geist Reservoir, IN
The Geist Reservoir is another popular summer destination for folks living in Indianapolis and surrounding areas. While it's not necessarily the most popular for kayaking, it's still allowed and a great place to paddle.
The reservoir is quite large, so you can spend hours paddling through the waters. You'll see many beautiful houses, forests, and a few restaurants and shops where you can make a pit stop for a bite to eat.
Since this is a reservoir without rivers flowing through it, the waters are easy to navigate for most kayakers. There are several coves you can explore, and if you're lucky, you may get to see a bald eagle.
5. Mud Creek, IN
If you're looking for a more thrilling kayak adventure, you'll want to tackle Mud Creek. There are sections of Mud Creek that are classified as rapids, making them exciting and perfect for slightly more experienced kayakers.
The route from Biscoe Road to Big Pine Creek is a little over two miles long and has class I and II rapids. If you're a beginner, you may not want to paddle this stretch without a partner or tour guide. However, beginners can still kayak these rapids because they're still manageable.
Before you launch your kayak to tackle these rapids, make sure you have all the proper gear.
6. Sugar Creek, IN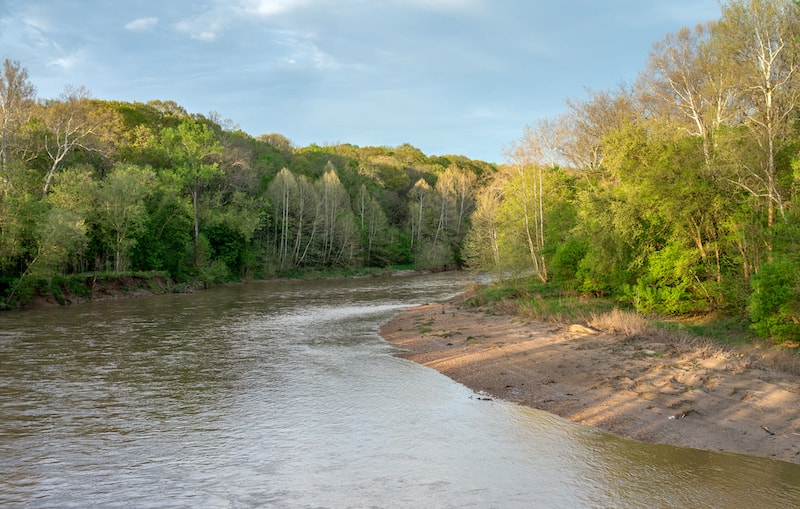 Another good river for kayaking near to Indianapolis is Sugar Creek. Roughly an hour from the city center of Indianapolis is Shades State Park. Sugar Creek runs through the park, which is the only place to kayak from this park.
As you paddle along Sugar Creek, you'll see beautiful sandstone cliffs that line the water. There are also plenty of shaded ravines you can pull off to if you need to escape the sun's beams for a few minutes.
The creek does have a current, but in this area, you shouldn't experience anything too intense. There are several access points along the creek in this park that make it easy to get in and out of the water.
7. Lake Waveland
Lake Waveland is about an hour outside the city and is a great summer location for water activities. This 360-acre lake hosts kayakers, swimmers, boaters, and other outdoor enthusiasts when the weather starts getting warmer.
Lake Waveland is the perfect escape from the bustling city of Indianapolis. You can paddle around the lake for a few hours before you hop out of your kayak to have a picnic. Then, after you've finished eating, you can either get back in the water or take a walk around the park.
Since powered boats are allowed on the lake, you may experience some waves while on the water. However, if you don't enjoy getting tossed around, staying near the shorelines should make things easier for you.
8. Flatrock River, IN
Less than an hour away from the city is Flatrock River. It's so quiet on this river that you'll forget you're less than a mile away from the city. This river is almost 100 miles long in total.
A popular access point for the Flatrock River is to get in near the Hidden Paradise Campground. From there, you can paddle or float down the river. You can go for as long as you want, but many people get in at this campsite and get out near highway 9. Most of the river is leisurely, but there are a few spots of white water to keep you entertained.
Keep in mind that if you choose to paddle down the Flatrock River, you'll either need to make sure you have someone to pick you up at your exit point or choose the challenging paddle back upstream to the campsite.
9. Racoon Lake, IN
Spending warm summer days at a lake is part of Indiana's culture. Racoon Lake is about an hour from the city and has plenty of water to explore on your kayak. This 2,000-acre lake is known for watersports as well as fishing, lounging on the shorelines, and camping.
Forests surround the lake, and you may see some wildlife if there aren't many people at the lake. If you plan on kayaking at Racoon Lake, you'll likely be kayaking around motorized boats, but you can avoid them by staying close to shore since they tend to boat in the middle of the lake.
You can bring your kayaks to Racoon Lake, or you can rent them if you get there and decide kayaking is something you'd like to do. Racoon Lake Boat Rental has kayaks for rent for a reasonable price.
10. Driftwood River, IN
This 16 miles river flows through farmland and wooded areas. Driftwood River is about 45 minutes outside of the city, and there are kayaking tours that you can sign up for.
When you plan on kayaking the Driftwood River, there are two routes you can take. They both flow down the same way, but one is seven miles long, whereas the other is nine miles.
Blues Canoe Livery has kayak rentals and will guide you along either the seven or nine-mile route of your choosing. Renting from this company is fantastic because they provide a shuttle service to get you to the boat ramp entrance point. This way, you don't have to worry about how you'll get back to your car after a day on the river.
These routes along the river are filled with wildlife that you may see. The river itself is full of blue herons, and there's a chance you'll see beavers and deer along the edges.
The seven-mile trip usually takes three to five hours, and the nine-mile trip takes four to six hours. Overall, the waters on Driftwood River are smooth, but there are a few rapids every so often that keep things exciting.
Summing up Kayaking Near Indianapolis
Indianapolis may not seem like the best kayaking destination, but there are several beautiful places to paddle.
There are plenty of places with very calm waters, perfect for families and beginners, as well as a few faster-paced areas for those seeking a thrill.