Beginners, expert paddlers, and every skill level in between can find some great kayaking locations on Iowa's 18,000 miles of navigable streams. Creeks, rivers, and lakes across the Hawkeye State provide recreation and unique experiences in a gorgeous setting. Connect to nature, history, and heritage on the state's water trails and take advantage of picnic areas, riverside camping, and plenty of outdoor adventures. If you need them, guided tours, safety courses, and Iowa River Water Trail Plans are available from the state's department of natural resources.
So grab a lifejacket (state law) as we look at 10 of the best places to kayak in Iowa.
1. Maquoketa River, IA
Up first, we have one of the state's most popular water ways: the Maquoketa River. This 150 mile river begins up in the northeast of Iowa before winding down to eventually flow into the Mississippi River.
This ancient river is very scenic as it winds through tall limestone bluffs that line its corridors. These cliffs were formed more than 400 million years ago when they were coral reefs under the sea! They haven't changed much for the last 10,000 years so the landscape is a good one for those interested in the natural history of Iowa.
We particularly like the route starting at Backbone State Park. Going from here, you can paddle through 18 miles of forests with huge old oak trees and imposing limestone cliffs before eventually coming to a roaring white water park in Manchester.
For a shorter trip, we recommending putting in at the Dundee Access. From here, you'll be just under 12 miles from Manchester. After about eight miles of paddling, you'll reach a series of mildly challenging rapids created from the conversion of the Quaker Mill Dam by engineers. This water trail is versatile for all skill levels since you can either take out at the ramp or paddle through the Manchester Whitewater Park if you're more advanced.
But there are a number of other trails worth exploring on this great Iowa river and this free PDF has some of them listed.
2. Boone River, IA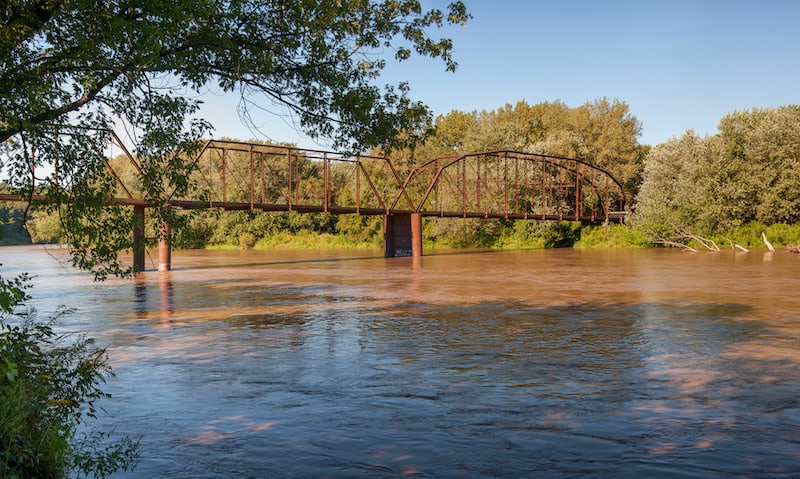 Up next, Iowan history comes to life as you paddle past historical sites along the Boone River. This 111 mile long river begins up in Hancock county before eventually becoming a tributary of the Des Moines river just north of Boone.
The river's steep fall and rapids made it an ideal spot for sawmills and grist mills during the 1800s. As a result, lots of the spots along the river bear the names of these now gone industrial mills but their impact on the land still remains.
There are a number of kayaking routes worth exploring with most of them being suitable for beginners. However, when the water levels are low it will expose the large boulders that scatter the river bed which can add to the excitement if you've got the experience.
If you're looking for a longer trip, we'd recommend beginning at the access point at Briggs Woods and paddle for 16 miles to Bell's Mill Park. You'll find two smaller rapids near Briggs Woods about five miles down the river. Avoid this stretch unless you're experienced in bracing and rolls.
Keep an eye out for the Boone's abundant wildlife too. It's home to a lot of otters, hawks and eagles. As you pass under bridges, look up and you'll likely see dozens if not hundreds of cliff swallow nests which are often found on the underside. Also, if it's the nesting period you're likely to find the parents out catching insects all around you for their chicks.
3. Upper Iowa River, IA
Another kayaking location in Iowa worth checking out is the Upper Iowa River. Its source is way up in LeRoy, Minnesota where it begins before winding down over 150 miles to empty into the Mississippi River.
It was one of the first rivers in the US to be recognized as a Wild and Scenic River and so has retained its natural and untouched landscape. Its corridor changes quite dramatically going from very narrow to wide and with high limestone cliffs on either side.
Once you're out on the waterway, you'll see why it's listed as one of the 100 Greatest Adventures by National Geographic. One of the most popular launch spots is from Kendallville Park Access, then paddle 18 miles to the Bluffton Fir Stand access. Three more access points lie in between Chimney Rock, Plymouth Rock, and Bluffton Point for a shorter trip.
4. Lizard Creek, IA
If you're looking for some class I-II whitewater rapids that are suitable for beginners and those with not lots of experience then check out Lizard Creek. A short drive from Fort Dodge, it's a small river with a great 14- mile section ideal for those looking for a few thrills. Here's a map with some access points and things to check out along the route.
The river is littered with boulders, riffles and drop offs that make it not too challenging but ensure there has been enough rainfall as when it's shallow it's not as safe.
As well as the rapids, Lizard Creek is also incredibly scenic as you'll paddle through deep woods and high limestone cliffs, a welcome change from the state's typical cornfields. It's also a good location for those looking to see nature as you'll see many of the cliff swallows that nest under bridges so keep an eye out for them.
With lots of accommodation in Fort Dodge as well as numerous campgrounds, it makes a great location for those looking for an escape from everyday life.
5. Wapsipinicon River, IA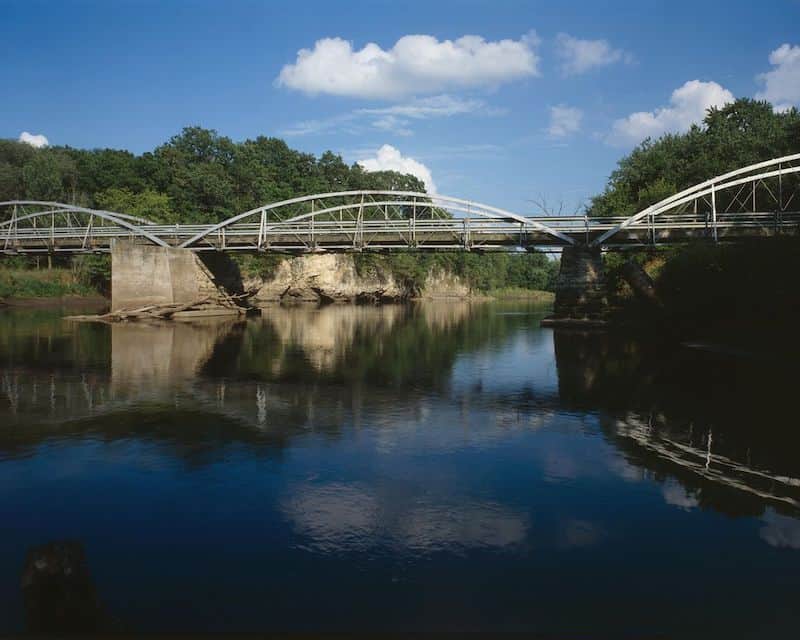 Another spot worth checking out for kayaking and canoeing in Iowa is the Wapsipinicon River. It cuts it's way through the old limesone deposits that are remnants from when Iowa was under the sea 390 million years ago.
Like a lot of the other Iowan rivers, it has high limestone cliffs that rise up either side of the river. Most of the time they only go 20 – 30 feet high but at some points along the Wapsi, you'll find them go up to 80 feet!
There are a number of easy to paddle trails suitable for all abilities. This PDF has some recommended ones with access locations.
It's also a good destination for kayak fishing as depending on the season, you'll be able to fishing for northern pike, smallmouth bass, walleye and crappie amongst others.
6. South/Middle Racoon River, IA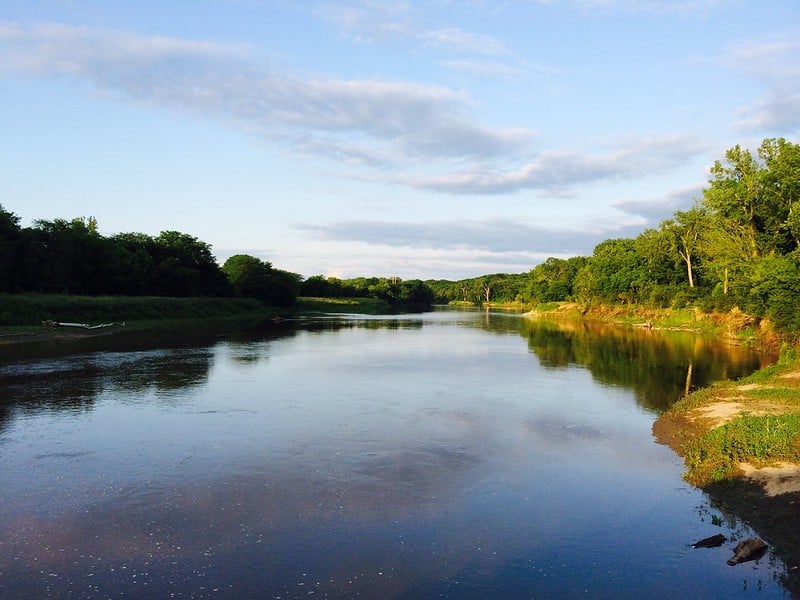 For those looking for a calm and scenic paddle conveniently close to Des Moines, then head for the South/Middle Racoon River. These rivers provide a slew of scerene paddling excursions with the trees and bluffs lining the river will make you feel far away from the heavily-populated city of Des Moines.
The Middle Raccoon is a particular wild river and is one of only five Protected Water Areas in Iowa. As a result, human development hasn't impacted the waterway and so is ideal destination for those looking to get away and reconnect with nature. It also means that there is abundant wildlife present and if you're lucky you'll see Bald Eagles, kingfishers, great blue herons and otters.
The South Raccoon is quite a contrast to the Middle due to its route through the farms and corn fields that Iowa is known for. It's also a bit more difficult and contains lots of riffles and often fallen trees so is recommended for more experienced paddlers.
For one of the most beautiful stretches of the Middle Raccoon that kayakers of all skill levels will enjoy, is the twelve-mile stretch that begins below the Redfield Dam to the access point at the Pleasant Valley Wildlife Area.
Along the way you'll witness geological history along the banks of the Des Moines Lobe, the site of a long-ago glacier that leveled the middle of the state. The sandstone bluffs made by the glacier rise up to 30-40 feet here too and is very impressive.
7. Middle River, IA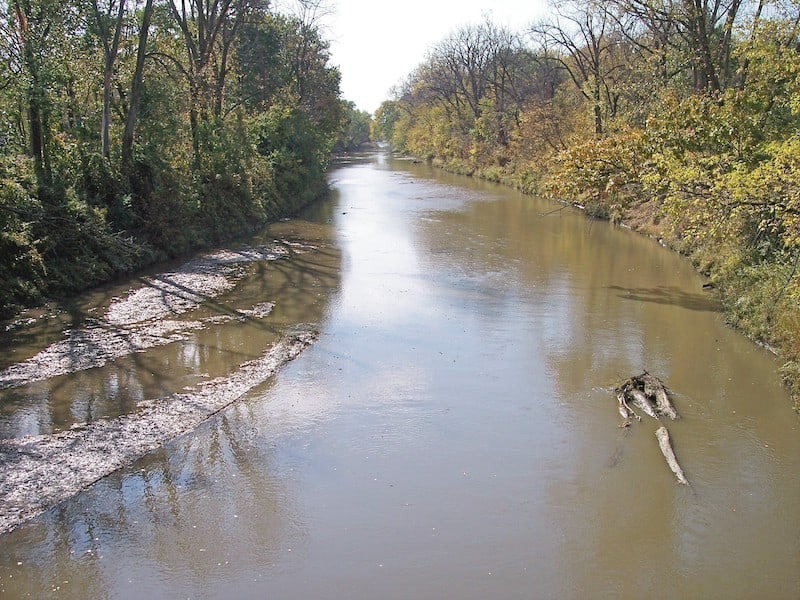 Another river close to the Des Moines metro area, is The Middle River Water Trail. Beginning up in Guthrie County, it flows for 123 miles before becoming a tributary of the Des Moines River in Warren County.
There are a number of different trails worth exploring on the Middle River. One particularly beautiful segment of the river begins at the Roseman Bridge southwest of Winterset. Built in 1883, it's one of the state's famous Covered Bridges of Madison County. The river twists and turns past limestone bluffs and through deep forests for nine miles. Eventually, you'll come to scenic Pammel Bridge State Park, home to Iowa's oldest oak trees.
Expect to come across a number of fallen trees and riffles too shallow to kayak across, but due to the rock beds and banks on either side it's very easy to portage around them.
8. Lake Ahquabi State Park, IA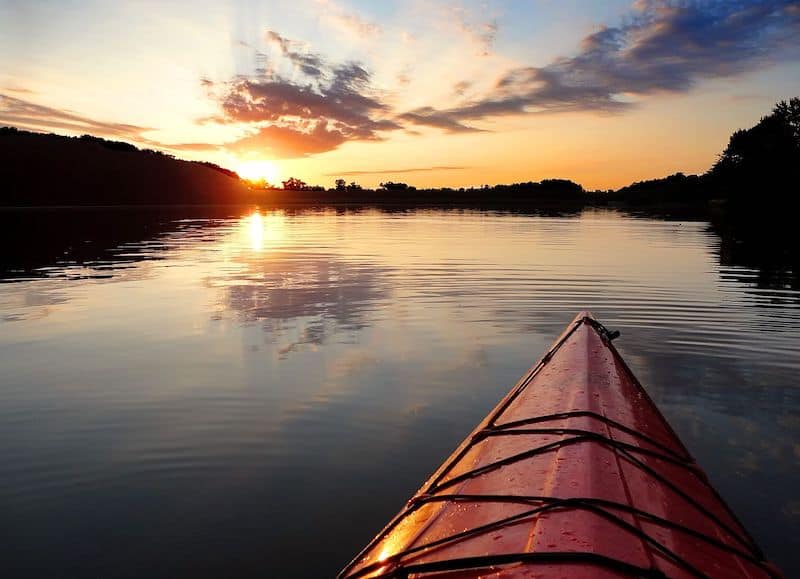 For a more structured kayaking experience, the Lake Ahquabi State Park features a 115-acre manmade lake. This gorgeous state park is located six miles south of Indianola and 22 miles south of Des Moines.
If you have one, you can bring your own kayak, but for those that don't you can rent one. Other rentals include canoes, SUPs, and pedal boats with boat ramps providing easy access to the water. The lake is also great for swimming and features a sandy beach.
If you're into fishing, Lake Ahquabi is said to be the best in the state. Whether you want to fish from the shore or from the water there are lots of spots ideal for it. You can even hire fishing kayaks and there are stands to get bait form.
9. Lake Red Rock, IA
Lake Red Rock, Iowa's largest, is in Marion County 15 minutes from the Iowa town of Knoxville. Holding over 15,000 acres of water, it serves as a reservoir and is operated by the Army Corps of Engineers.
The lake provides very flat water and so is suitable for all skill levers of kayakers and is a great place for beginners to practice their strokes. You can also take advantage of scenic hiking and great camping with more than 35,000 acres to explore.
The easy trip from Des Moines means lots of visitors during the summer but with so much space, you'll find plenty of room for kayaking. There are also numerous beaches around the lake.
10. West Nishnabotna River, IA
And last, but not least we have the West Nishabotna River. It's a 26.8 long water trail that runs along wooded banks and provides a fantastic habitat for lots of wildlife.
The river meanders lazily and provides great paddling for beginners or kayakers who simply want a gentle, easy ride. This water trail does become more challenging though after a heavy rain or snowmelt so check the water levels before heading out.
Sandbars provide convenient stops for resting, picnicking, and searching for fossils. Access points are located in Hancock, Avoca, Oakland, Macedonia, and Carson, all in Iowa's beautiful Pottawattamie County
Summing up Kayaking In Iowa
As you see, there are a lot of great places to go kayaking in the great US state of Iowa. While there aren't as many whitewater kayaking destinations as other US states it's the perfect destination for those looking for scenic and untouched rivers that retain their natural beauty.
And if you also enjoy fishing, camping, and hiking, you'll be happy along Iowa's water trails, peaceful lakes, and whitewater parks. Beginners will soon be experts, and old pros will always find challenges.
For more top kayaking destinations in the US check out our post here.