Louisville, Kentucky, is known for its sprawling green nature and its beautiful views, ideal for botanists and nature lovers of all kinds. From lakes and sanctioned water sporting parks to rivers and creeks, Louisville also boasts some of the best places to kayak in all of Kentucky.
All under an hour from the city of Louisville, these ten kayaking spots offer adventure, excitement, and an immersive look at some of the area's most inspiring natural spots for the entire family to enjoy. To learn more about the ten best places to kayak in Louisville, Kentucky, continue reading below.
1. Harrods Creek and Park, KY
Located only 25 minutes outside of Louisville, Kentucky, Harrods Creek Park is one of the most well-known kayaking spots in all of Kentucky state. It is suitable for people of all ages and capabilities. This is a great place for canoes and paddle boarders also because its flat waters categorize it as Stillwater. This means that the waters lack waves and rapids that often make kayaking dangerous or difficult.
Harrods Creek Park is a great place to see local wildlife like herons, frogs, cranes, and sometimes even deer. There are also small waterfalls to view as you make your way down the river trail. To access the kayaking route, you can visit any of the designated boat ramps apart from the private marina.
While launching can be muddy, especially when the Ohio River is flooded, there are many places to turn around or pause for an afternoon picnic. Since parking is really limited, it is best to come as early as possible to snag a good spot. For those who need to rent a kayak, Nachand Canoe and Kayak Rental offer affordable rentals that include a launching fee.
2. Ohio River, KY
The Ohio River is number two on our list of the best places to Kayak in Louisville, Kentucky, because it is underrated by many kayakers and water sports enthusiasts. While it might have a reputation for being dangerous, kayaking the Ohio River is incredibly safe. With the speed of the river's current at only half a mile per hour during the summertime, the Ohio river offers a leisurely trip down the Class I waterway with views of historic trees and native foliage.
With easy and convenient water access points at the head of the river, only about one hour outside of Louisville, the Ohio River is one of the best places for families and beginning kayakers.
3. The Falls of Ohio, KY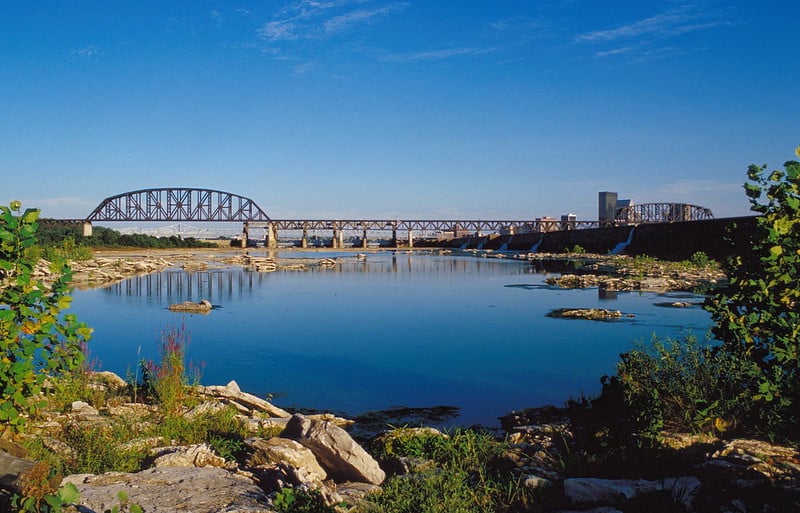 The Falls of Ohio is one of the closest places to Louisville, Kentucky, to kayak. With views of the downtown Louisville area, the biggest part of your commute will be finding parking close to the boat ramp.
With beautiful coral reefs visible in the water, this is a great trip for lovers of sea life. On clear days during the spring months, the paddling is easy and perfect for beginners who want to take in the sights. A trip past Six Mile Island is perfect for large groups who would like to kayak together. From November through June, the falls waterway levels are higher, therefore creating choppy waves and little rapids for more intermediate to advanced kayakers seeking some adventure.
Since the Falls of Ohio is an area under the protection of the National Wildlife Conservation Area, it is important to respect the animals and fossils that belong there. Remember to leave no trace and to be mindful not to take natural items as tokens.
4. Long Run Park, KY
Long Run Park is an excellent kayaking area only 30 minutes directly west from the center of Louisville. A Stillwater Class I kayaking area, it is perfect for families with young children and those who have never tried kayaking before. The area is very quiet and is often used as a place of introspection by kayaking enthusiasts who like to pause and birdwatch or enjoy a good book at one of the picnic areas nearby.
There are several unnamed boat ramp areas to access the river waterways of Long Run Park with your kayak. If you need to rent a kayak, you can launch near Long Run Park Kayak Rentals nearby.
5. Tom Wallace Lake, KY
Located near Jefferson Memorial Forest, this kayaking area offers shade during the day under a pleasant grove of trees and brush. Full of fish, Tom Wallace Lake is a great place to stop for some kayak fishing with the kids.
This lake is known as a good universal kayaking area for moderate and intermediate kayakers. While oftentimes the riverways are completely still, the winds can pick up and create some waves and water ripples, making the trip slightly more challenging.
Unfortunately, no kayak rentals are available at Tom Wallace Lake. However, it is only about 25 minutes away from Louisville, Kentucky, and kayaks can be rented inside of the city.
6. Floyds Fork, KY
With over 60 miles of tributary in Southeast Louisville, Kentucky, Floyds Fork is a beautiful place to kayak and explore all that the area has to offer. Only a 24-minute drive out of the center of Louisville, Floyds Fork Creek is one of the four awe-inspiring areas to kayak.
With access points easily available at the Valhalla Golf Course, you can enjoy an afternoon on the water before putting on the green. Great for intermediate and advanced kayakers, this spectacular 19-mile river has become Class II over time due to its increasing flow.
While there are no rentals available on Floyds Fork, Blue Moon Canoe and Kayaks a few miles away offer kayak rentals from April until October. If you have your kayak, private access to the water is also available at the North Beckley and Creekside sites.
7. Deam Lake, IN
Only 30 minutes away from Louisville, Deam Lake in Indiana is a dream come true for anyone who loves to park their kayak and spend some time jumping into the cool, clear water. Great for swimming, Deam Lake is lined with soft sandy beaches, shady trees, and local wildlife like birds, frogs, and fish.
Deam Lake is considered a Stillwater or Class I kayaking area with little to no wave activity depending on the time of year. However, this shallow water is met with rocks and gravel at the bottom, so care must be taken when swimming around.
Kayak rentals are not available near Deam Lake, so families of all ages and abilities who own their kayak, canoe, or paddleboards will have the most fun at this somewhat populated and relaxing location.
8. McNeely Lake Park, KY
McNeely Lake Park is located only 20 minutes south of Louisville, Kentucky. It is one of the largest park systems in the state and has over 40 acres of lake to kayak around. Multiple concrete boat ramps and entry access points are available for kayaks through the Kentucky Department of Fish and Wildlife.
Most of the lake is anywhere from 10 to 30 feet deep, making rapids and waves very unlikely. This makes the lake perfect for beginners and families with small children and intermediate kayakers who want to traverse the lake's perimeter multiple times.
At McNeely Lake Park, only boats without motors are allowed. This makes the area very safe and peaceful for kayakers seeking to get out of the city for a full-day kayak tour or just a quick trip on the water.
Only 15 miles south of the center of Louisville, McNeely Lake Park is reachable by the Gene Snyder Freeway. After turning right onto Cooper Chapel Road, signs will direct you to the lakeside.
9. Rough River, KY
Rough River is an excellent intermediate and advanced level kayaking site about an hour to an hour and a half away from Louisville, Kentucky. Well worth the drive, Louisville is a very popular spot for those who love rafting and kayaking. Though parts of the river are slow and smooth, there are choppy sections that take some effort to traverse.
Depending on the time of year, Rough River can be classified as Class 4. For those who prefer a flatwater kayaking trip, Rough River Lake is the perfect fit. This lake has over 5,000 acres and is lined with beds of limestone.
It is best to bring your kayak to both Rough River and Rough River Lake because no rentals are available at any of the Rough River entry points.
10. Nolin River, KY
Great for moderate kayakers, Nolin River is an hour-long drive away from Louisville, Kentucky. If you are a fan of lush, green forests and want a bit of a challenge, Nolin River is the best kayaking spot for you. While the rapids are only mild at Nolin River, the rock formations take the level from easy to moderate with swift little shifts and changes in the river's pathway.
Kayaks are available for rent at Nolin River Canoe nearby, where pickup and loading are also offered by the same service. There, you can locate an entry point great for those who want to spend a whole day on the water taking in the beautiful scenery.
Summing up the Best Places to Kayak Near Louisville, KY
With plenty of advanced and beginner kayaking areas for individuals and families alike, Louisville, Kentucky, offers natural beauty and clear, sprawling waters.
Whether you want to check out some of the big, calm, local lakes or take a birdwatching trip down some rocky waterways and rivers, Louisville is likely to have something to offer for the kayaking enthusiast in you.