Nashville might be known as Music City, but this town has a lot more to offer than just amazing tunes and nights out. There are plenty of places to go kayaking in and around Nashville to explore the area from the water.
Some of Nashville's best, and most scenic kayaking, is great for kayakers of all skill levels. Some of it is better suited to those with more experience. Whatever your level, you're sure to find a route as we explore the 10 best places to kayak near Nashville.
For those looking for more options check out our best places to kayak in Tennessee post here.
1. Cumberland River, TN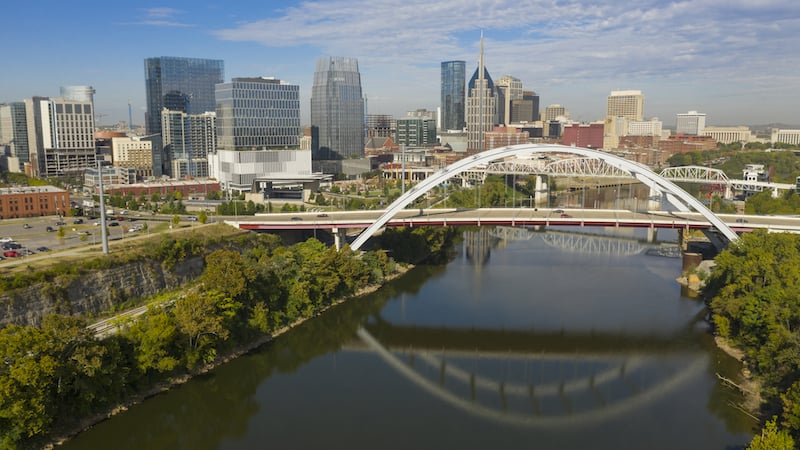 The Cumberland River is one of the most famous kayaking spots near Nashville and probably in the American southeast. Since it's vast, there are parts of the river that are perfect for novices, whereas others require a little bit more experience. Of course, if you're unsure about your skill level, you can always hire a tour guide or go with a group.
One of the biggest challenges that you will face when kayaking on the Cumberland is its length. Therefore, you should organize pick-up and drop-off points unless you're fully convinced that you can paddle back upstream. Paddling upstream is not recommended for novice kayakers, as the rapids make it exhausting and challenging work unless you know what you're doing.
The Cumberland River features plenty of unique wildlife, and it's simply a naturally beautiful place. So expect plenty of company on the Cumberland. Not only will you likely run across fellow kayakers, but you could see some larger crafts as well. The Cumberland is famous for trout, so anglers tend to go there, especially at certain times of the year.
2. Radnor Lake State Park, Nashville, TN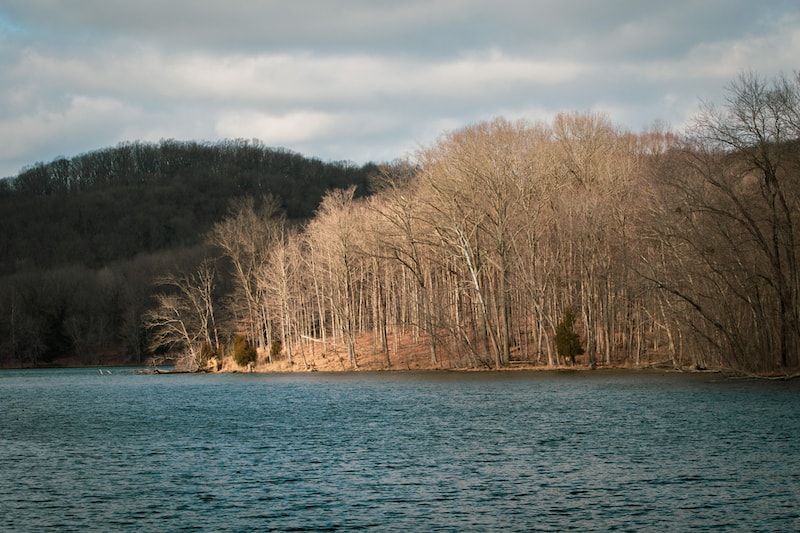 Radnor Lake State Park doesn't allow private crafts, but that doesn't mean that it's not a good kayaking destination. Guided floats and tours are available between May and August, and you will still get a good workout while relaxing in a tranquil environment.
One of the best aspects of Radnor Lake State Park is the fact that it has a spectacular aviary center, and you can get in a good hike before or after your kayaking journey. In fact, Radnor Lake State Park is a phenomenal place to take your kids to learn about nature.
As for the lake itself, it's pristine and practical for novice kayakers. It's also a good place for advanced kayakers to go if they want an educational experience as well as a good workout.
Simply book your tour between Memorial Day and Labor Day. These tours are popular, so it's a good idea to book well in advance, especially if you have a big group.
3. Elm Hill Marina, Percy Priest Lake, TN
Elm Hill Marina is situated on Percy Priest Lake and is technically privately owned. Even though it's not public land, you can still launch your kayak from there. It's an excellent spot to get a whole new view of Percy Priest Lake and slightly less popular than Hamilton Creek. This means that you have a smaller chance of running into other kayakers.
Launch from Elm Hill Marina and explore the shores of Percy Priest Lake, including some natural islands. Although the natural beauty can't be understated, Elm Hill Marina is not for beginners. On the contrary, this place is teeming with all sorts of larger crafts, like pontoons and speedboats. You won't get an idyllic kayaking experience here, but you will see some unique topographical features.
Due to the sheer number of bigger boats, Elm Hill Marina is an excellent spot for experienced kayakers. Novices or intermediate kayakers should always go with a more seasoned partner if they want to venture out.
4. Piney River, TN
Piney River can be a bit challenging, but if you're an experienced kayaker and up for it, the journey will be memorable. There are some areas of the Piney River that are exceptionally shallow. You need to know how to navigate your kayak properly. That's why it's a good option for moderate to advanced kayakers, but beginners may struggle.
Certainly, parts of the Piney River are for advanced kayakers only and are class IV and class V. If you have any doubts about your skill sets, stay between Piney River Campground and Piney River Road. Venturing further could be treacherous, even for seasoned kayakers.
5. Smith Springs Park, TN
Smith Springs Park is a moderately tricky kayaking option for people who want to spend the day exploring small islands in Percy Priest Lake. Due to its popularity as a fishing spot, it's good to be reasonably seasoned in both kayaking skills and boating etiquette. Percy Priest Lake is gigantic, so go with a friend.
Smith Springs Park is just a few minutes away from Nashville, so you can easily go for the morning, afternoon, or even a sunset kayaking adventure. There is plenty of wildlife in Smith Springs Park, ample parking, and on-site bathroom facilities. It closes at 8 p.m.
6. Hamilton Creek Recreation Area, TN
This picturesque recreation area is only 20 minutes away from the heart of Nashville, but you will feel like you're in a totally different world. Located on Percy Priest Lake, it's an alternative to more challenging kayaking adventures like Elm Hill Marina. So launch your kayak from the beach access area, and you will be on your way.
The beach access area also has good picnicking options and plenty of trails to explore. However, unlike Elm Hill Marina, the Hamilton Creek Recreation Area is less likely to have larger crafts. Instead, you can expect to run across fellow kayakers and people in canoes. As such, it's a good option for beginners.
Percy Priest Lake is famous for its limestone formations, and there are plenty of coves and inlets to explore. Prepare to spend at least half a day at Hamilton Creek Recreation Area.
7. Montgomery Bell State Park, TN
If you drive 40 minutes from downtown Nashville, you will find Montgomery Bell State Park. This sprawling, 3,850-acre park has three lakes, and all of them are amazing for kayaking. There are also plenty of hiking trails as well. Montgomery Bell State Park has plenty of amenities, like a golf course and restaurant, so it's a family-friendly spot with a little adventure on the side.
Lake Acorn and Lake Woodhaven are both excellent places for kayaking. Their sheer size makes them suitable for more intermediate kayakers, as the water out near the center of the lake can be unpredictable. Currents and small waves are common. Since novice hikers can get easily exhausted battling currents, make sure that you have both the skill and physical aptitude.
Additionally, larger crafts can go on these lakes, so a good grasp of boating etiquette is essential.
8. Harpeth River, TN
Harpeth River is part of Harpeth River State Park, and it stretches for a full 40 miles. Although the state park is well-known for hiking and trekking, Harpeth River itself is an excellent place for kayaking. This river is notably a class I river, meaning that it's suitable for beginners. Still, you should expect to experience some rapids and tricky areas depending on where you are in it.
You can bring your own kayak or rent them right on the spot. You can also get guided tours if you wish. Some access sites might not be open all of the time depending on the water level, so it certainly pays to check ahead. You can't camp on the banks of the Harpeth River, so plan on making this venture a day trip from Nashville.
9. Long Hunter State Park, TN
Long Hunter State Park is another option on Percy Priest Lake. It's an excellent spot to check out a different location of the lake, see some new wildlife, and find comparably fewer kayakers. Most kayakers leave from the Hamilton Creek Recreation Area, so Long Hunter State Park is an excellent option if you want some alone time.
You can also visit Couchville Lake from Long Hunter State Park. This lake is much smaller than Percy Priest Lake, but it's still an excellent option for kayaking. It's open all year and tends to be reasonably tranquil. Beginner kayakers should feel comfortable on Couchville Lake because the waters are so still, and you can't operate gas watercraft on it.
10. Buffalo River, TN
And finally, a little bit further out from Nashville we have the Buffalo River which is a full 125 miles long, and it's an absolute goldmine for people who want to kayak. There are plenty of water sports that you can do on Buffalo River. The difficulty level of the river depends largely on where you put your kayak. The middle of Buffalo River is fairly tranquil, but the area near Hohenwald tends to be much more technical.
It's a good idea to do your due diligence and be honest about your skill sets in advance. Also, given the length of Buffalo River, make sure to kayak with a partner. You can spend as long as you'd like on the river, but remember, kayaking upstream is always more difficult than downstream.
Summing up the Best Places to Kayak Near Nashville
As you can see, whether you're a beginner or an expert, there are plenty of places in Nashville to take your kayak for some fun.
We have put together this list of our 10 favorite spots around the city that will get you out on the water and exploring all that it has to offer.
So pick up your paddle, grab a boat (or rent one), pack up snacks and drinks, and head outside for some adventure!