Tennessee is a U.S. state home to some of the most beautiful natural wonders. It has been admired by nature enthusiasts for decades and is a great place to explore the great outdoors. Whether you are hiking through the famous Smoky Mountains or kayaking the currents of The Volunteer State's awe-inspiring rivers, it is sure to in still awe and inspire you.
With over 41,000 square miles of waterways in the state, Tennessee is a very popular state with kayakers and water-sport enthusiasts. In this post, we're going to list 10 of what we think are the best places to kayak in Tennessee to help you plan your next kayaking trip.
1. Barren Fork River, TN
Up first, we have the Barren Fork River which is a 23.4 mile long tributary that feeds the Cumberland River. It is a part of the Mississippi Watershed and is quite unique when compared to other rivers within the state. Unlike most Tennessee rivers, the Barren Fork flows from east to west.
It's a great river for recreational kayaking and has many public and private access points along its length such as at Crisp Springs Market, Pepper Branch Park, and Rocket Park.
It is important to keep in mind, however, that there are no public campgrounds along Barren Fork. Thus, it is best for a shorter day trip. With calm waters and an abundance of nature along its banks, Barren Fork is perfect for someone just getting into the wonderful world of kayaking.
2. Caney Fork River, TN
The Caney Fork River is unique in the fact that it is suitable for kayaking and other water sports all year round. It runs approximately 144 miles long and flows northwest to the Cumberland River. The River's name originates from the dense and extensive cane breaks that once populated the river banks when explorers first visited the area.
With some of Tennessee's clearest water, it is especially inviting for a quick dip and remains a popular spot among fisherman. This is because the Tennessee Wildlife Resources Agency annually stocks the river with several varieties of Trout. Public access spots include Happy Hollow, Cotten's Marina, and Rock Island State Park.
3. Cumberland River, TN
Coming in at a substantial 668 miles long, the Cumberland River remains one of Tennessee's longest rivers. Since it is a major US waterway, this river has remained popular with avid kayakers for decades. The river is mainly surrounded by rural land, however, it does flow through several major cities such as Nashville and Clarksville.
The Cumberland River is perfect for family kayaking trips, as its banks are littered with picnic grounds, campgrounds, stores, and parks. This makes it suitable for multi-day and overnight trips. Public access points include Roaring River Park, North Cairo Boat Ramp, and Two Rivers Park.
4. Harpeth River, TN
The Harpeth River is relatively short compared to some of Tennessee's rivers flowing for 115 miles. It rises up in Rutherford County before its confluence with the Cumberland River near Ashland City.
The lower part of the Harpeth has been designated as a scenic river and has relatively slow moving water, making it a great option for beginner kayakers. Couple that with a plethora of wildlife that call this gorgeous river's banks home, and you have a perfect spot for nature enthusiasts that like to take it easy. Public access points for this river include Canoe Music City, Tip-A-Canoe, and Kingston Springs City Park.
5. Big South Fork of the Cumberland, TN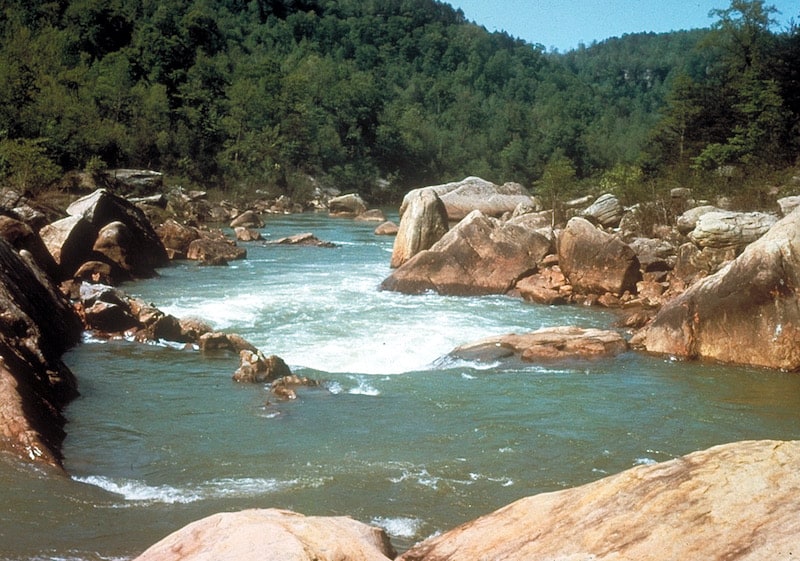 If you're an adrenaline junkie looking for some whitewater kayaking in tennessee, The Big South Fork of The Cumberland River is defintely one for you to visit. It's one of many tributaries of the Cumberland River and flows for 76 miles before emptying into Lake Cumberland in Kentucky.
But, the section we'd recommend for rapids is between Oneida and Leatherwood Ford. This section is about 6 miles long and offers a number of different rapids ranging from class II-IV so isn't for beginners. For more routes along the Big South Fork check out American Whitewater's website here.
6. The Obed River, TN
As the only federally protected waterway in Tennessee, The Obed River runs for around 45 miles through the state. About 35 miles of that is accessible via a kayak and makes for a good day overnight trip of paddling.
The Obed has one of the longest whitewater runs in the Southeast and features class II-IV rapids. If the water is running high some of these even turn into class V so aren't suitable for beginners.
If you're not up for doing the whole 35 miles then there are lots of shorter routes to tackle that will take a few hours to complete. One popular section is from Obed Junction to Nemo which is just under 10 miles of paddling. It features a 1 mile section of class III-IV rapids which can be great fun for those with the skills. Here's a video of the Rock Garden Rapids on that route.
For those looking for a more relaxed trip, most of its banks are completely free from human impact and there are plenty exploration worthy caves along the banks.
7. Hiwassee River, TN
The Hiwassee River is a 147 mile long paradise ideal for beginner paddlers. It begins in Georgia where it flows through North Carolina before eventually joining the Tennessee River. It's a popular spot among families, campers, and fisherman due to the wide, beautiful, and fertile valley it flows through.
A popular section for kayakers is between Apalachia Powerhouse and Reliance. This route is around 5 and a half miles long and features a number of class I – II rapids so is a good entry level route for newer kayakers. You can park at Reliance and visit either Webb Brothers or Hiwassee Outfitters who have kayaks to rent but will also shuttle you up stream to the launch spot for a small fee if you have your own boat.
8. The Nolichucky River, TN
Next, we thought we'd include the Nolichucky River which is a 115 mile long waterway that traverses The Blue Ridge Mountains and some of the tallest mountains in the Appalachians. But, due to its mountainous route, this river is best paddled by advanced kayakers as it offers class III and IV rapids right from the start.
If paddling the Nolichucky is not for you, you can always watch other kayakers tackle nearly 8 miles of rapids. Many adrenaline junkies recommend riding the Nolichucky rapids following a rain storm, as the water gets deeper and the flow gets faster. This is not advised for inexperience kayakers, however, as this can quickly become dangerous and requires a lot of whitewater experience. Great access points include Chestoa Park and Devil's Looking Glass.
9. Tellico River, TN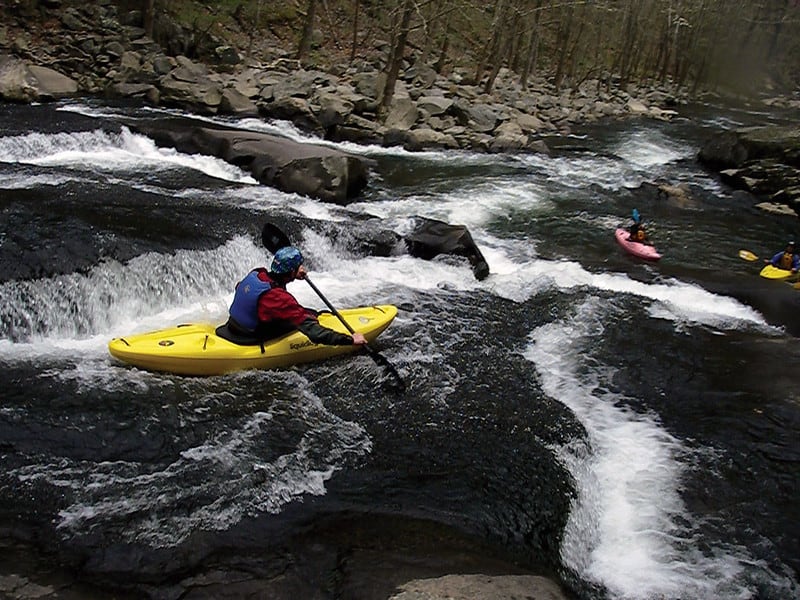 The Tellico River is a 52.8 mile long tributary of the Tennessee River, renowned for its brook, brown, and rainbow Trout fishing. This pristine river is surrounded by beautiful plains and lush forests, perfect for nature enthusiasts, bird watchers, and the like. For those that are vertically motivated, the Tellico offers a serious of drops, including the 12 foot tall Baby Falls. Other notable drops include the "Diaper Wiper," however, there is an easier class II section of the river for those who do not enjoy fast moving water.
10. Little River, TN
And last, we have the Little River, a 60 mile long river located within the borders of the Great Smoky Mountains National Park. As you can imagine, this makes for some of the most spectacular scenery in all of Tennessee and is definitely one not to miss.
One notable part of the Little River is known as The Sinks, a series of natural pools formed by the river turning and it makes a great starting point for a 3 mile section of class III-IV rapids down to Elbow.
For those of you into fishing, Little River has also been named as one of America's 100 best Trout Streams by Trout Unlimited, making it a popular spot among anglers.
Summing Up Kayaking In Tennessee
Anyway, that's it for some of our favorite kayaking locations in Tennessee, we hope it's helped inspire you for your next paddling trip. It really is one of the most stunning states in terms of scenery and its river banks are littered with beautiful canyons, caves, deep forests, loads of wildlife and of course fun kayaking runs.
As usual, make sure you have all the necessary safety gear for kayaking and if going down some of Tennessee's whitewater rivers make sure you have enough experience and ideally go with someone who knows the route well.
For more kayaking trips around the US check out our post here on the best places to kayak in America.