From an outsider's perspective, the city of Philadelphia might appear like an urban jungle packed with historic row homes surrounding an epicenter of skyscrapers. However, Philadelphia sits nestled between the Schuylkill and Delaware Rivers and neighbors a few state parks, offering residents and tourists oasis-like nature escapes.
These rivers and parks are hosts for outdoor adventures and kayaking excursions if you know where to look. Fortunately, we've compiled a list of the ten best places to kayak in Philadelphia for those looking for a fun afternoon outdoor escape without having to travel too far.
Take a look at our list to find out which location is closest to you and where you want to escape to next. For more kayaking destinations nearby check out our post on the best places to kayak in Pennsylvania here.
1. Schuylkill River, PA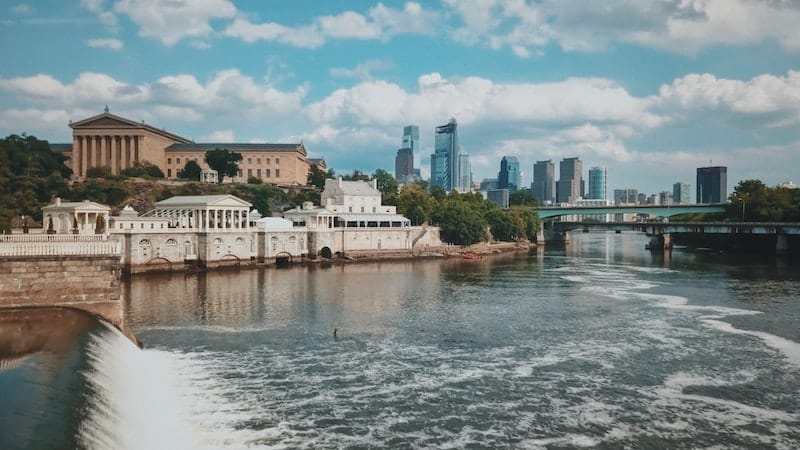 Infamous to native Philadelphians as a perpetual traffic nightmare, the Schuylkill, not when driving, hosts many outdoor activities, including kayaking.
The river is accessible from various destinations, including Bartram's Garden, Locust St. Crossing, Botanic Avenue and South 49th Street, and the Walnut Street launch deck just around the Mutter Museum along the bank.
If you have your kayak, you'll take it with you and set out from the deck. If you don't own a kayak, you can always schedule a kayaking tour with Hidden River Outfitters. They offer both day and moonlit tours depending on your preference and price range.
The river stretches about eight miles and offers stunning views of the Philadelphia Art Museum, boathouse row, the surrounding wildlife, and the skyline.
2. Wissahickon Creek, PA
Up next, we have a practically otherworldly experience, Wissahickon Creek. Although not so far removed at about a 20-minute drive from Center City, Wissahickon Creek offers a range of kayaking terrain among the forest scape. Here, you can experience deep rapids or steady sailing, all while taking in the nature and wildlife you miss in the city itself.
Park and creek visitors enjoy the seven-mile stretch for the lush wildlife and unique historical sites, including Valley Green Inn and the last covered bridge in Philly.
Wissahickon Creek, a part of Wissahickon State Park, is easily accessible via route I-76. You can either bring your kayak or rent an available one from the Philadelphia Canoe Club. You can also subscribe to their membership for scheduled paddling trips and other events if you plan to frequent the park for kayaking.
3. Penn's Landing, PA
Another popular destination for kayaking, Penn's landing, serves as a hub for entertainment year-round. From concerts and ice rinks to kayaking, Penn's Landing is always a go for access to entertainment along the Delaware River.
You'll find Penn's Landing right next to Spruce Street Harbor Park, Independence Hall, and across the river from the Camden Waterfront Aquarium.
From Penn's Landing, you don't get the intense wildlife scenery that you would from the Schuylkill River. Instead, you get a unique view of the city's harbor and urban landscape from the deep, still Delaware River water. This spot to the Delaware River is ideal for those who don't want a strenuous kayak excursion.
If you need to rent a kayak, you will find them available at the local Independence Seaport Museum. You can rent a kayak to explore on your own, or you can sign up for a class with the museum's Workshop on the Water program as well, which might come in handy if it's your first time on the river or in a kayak.
4. Delaware River, PA
Suppose you can't get to Penn's Landing or want to get further out from the City for a more extended, more intensive kayak excursion. In that case, you can access the Delaware River from various destinations, including, but the closest area to Philly is Bucks County River Country.
Bucks County River Country is about an hour North of Center City, accessible via I-95 toward Trenton. The organization in Pipersville, PA, requires a reservation in advance for either a two-person or group kayaking trip but offers various kayak styles to suit your skill level and comfort preference.
Woodsy banks encompass the river along these stretches, and the water flows consistently to aid you on your trip if you don't feel like continually paddling. Be on the lookout for turkeys, deer, and other wildlife during your trip, and the area surrounding the banks is plentiful.
5. Brandywine River, DE
Although less popular than the Delaware and Schuylkill Rivers, the Brandywine River offers plenty of views and kayaking possibilities. The Northbrook Canoe Co. offers three different kayaking trips along the Brandywine River of varying durations and is only about an hour from Center City.
Northbrook Canoe Co is located in Coatesville, PA, just slightly North West of Longwood Gardens. From there, you can hop on a shuttle to your trip's destination points, venture out on the river and take a shuttle back to the headquarters.
You can experience Pennsylvania for what it's widely known for, extensive peaceful farmland along the Brandywine River. On either side of the bank, you can view the rolling pastures and spot some cows and horses too. It's a much different experience than those closer to the city's heart and probably more suitable for those with less kayaking experience also.
6. Marsh Creek State Park, PA
If you're looking for a more relaxed, drifting-type kayak trip, you might want to consider taking the hour trip up to Marsh Creek State Park in Pennsylvania. The state park's waterfront hosts boats, canoes, paddle boarding, and kayaking.
Unlike the previously mentioned river excursions, Marsh Creek State Park is more of a place to relax and paddle around rather than follow along with a current from a specified starting destination. It's the ideal spot for beginners or people looking to spend an entire day on the water since you can rent out kayaks for up to eight hours or bring your own for longer.
You can rent kayaks and other water sports equipment from Marsh Creek Watersports on the water's bank. You can even easily take a break from paddling and wading in the water for a quick picnic on the shoreline to take in the breeze and views.
7. Bartram's Garden, PA
Connected to the Schuylkill River, Bartram's Garden gives paddlers access to the waterfront on Saturdays from 11 a.m. until 3 p.m. every week until the weather turns during the Fall. It provides much-needed relief during the scorching hot summer in the city and easy access, being so close to the city's center.
The area itself opens up to the entire river, but you can stay and float in your kayak along the front if you want. You don't have to submit yourself to a three-hour-long kayaking tour. From this waterfront destination, you'll get stunning views of the city without the hustle and bustle of traffic.
Although it's only open for a limited amount of time, it offers guests a secret little getaway for a few hours. Plus, the garden itself provides plenty of activities. You'll find Bartram's Garden just south of University City near the Children's Hospital of Philadelphia.
8. Pine Barrens, NJ
Whether you're native to the region or not, you've probably heard of the Pine Barrens, otherwise known as the home of the Jersey Devil. However, it should be known as a kayaking epicenter since its home to various creeks and rivers begging for exploration.
Since the Pine Barrens take up a hefty section of South Jersey, it's not too hard to get to, and you don't have to travel very far, only about an hour, give or take 10-minutes.
The best spot for access and kayak rentals or tours is Pinelands Adventures. Kayaking is available here at either Atison Lake or Goshen Pond, both of which are adequate for beginners. You can even stay at the campgrounds in the area for an extended kayaking trip.
9. Lake Nockamixon, PA
Escape to Pennsylvania's largest lake at Nockamixon State Park for a day of water-based fun. The lake hosts various outdoor activities for the whole family to enjoy, including kids, since the water is exceptionally calm.
Here, kayaking is not intensive. Instead, it's similar to the Marsh Creek State Park. You can rent or bring your kayak for a day of drifting and paddling about the 1,450-acre lake. It's the perfect spot for a relaxing kayak outing.
You can also take in all of the wildlife you wouldn't usually see within the city, including marine, land, and avian species. It's a great spot to seek out a mini-vacation without having to travel too far from the city since it's only an hour or less (depending on traffic) to get to. The lake is about five miles from Quakertown and nine from Doylestown.
10. The Poconos, PA
Finally, if you're looking for a more extreme kayaking trip for an experienced group, you might want to venture out to the Poconos. Although the furthest of the kayaking destinations at about an hour and a half away from Center City, it's the only place you'll find the challenging rapids you crave.
For the best experience, check out Pocono Whitewater's Expedition Kayak program. With this organization, you can rent an inflatable kayak and take on the eddies and rapids of the Lehigh River. This kayaking trip is not for beginners or individuals under 13 years old.
Summing up the Best Places to Kayak Near Philadelphia
As you can see, there are so many great places to kayak in and around Philadelphia. It's hard to know where to start, but the 10 best places listed here will give you a few ideas for your next paddling trip!
Whether you want a leisurely paddle on calm waters or an exciting whitewater adventure, there is something for everyone nearby Philly.