Located in the beautiful Pacific Northwest, Washington has some of the best outdoor activity opportunities for those looking to get some fresh air. Even in the bustling city of Seattle, there are ample places either in the city or just outside where you can get your nature fix.
With several lakes, rivers, and the open ocean within minutes of Seattle, it's no wonder kayaking is a popular activity for people of all ages here. If you're ready to hit the water, here are ten of the best places to kayak in Seattle, Washington.
If you're looking for other destinations check out our post on the best places to kayak in Washington state here.
1. Lake Union, WA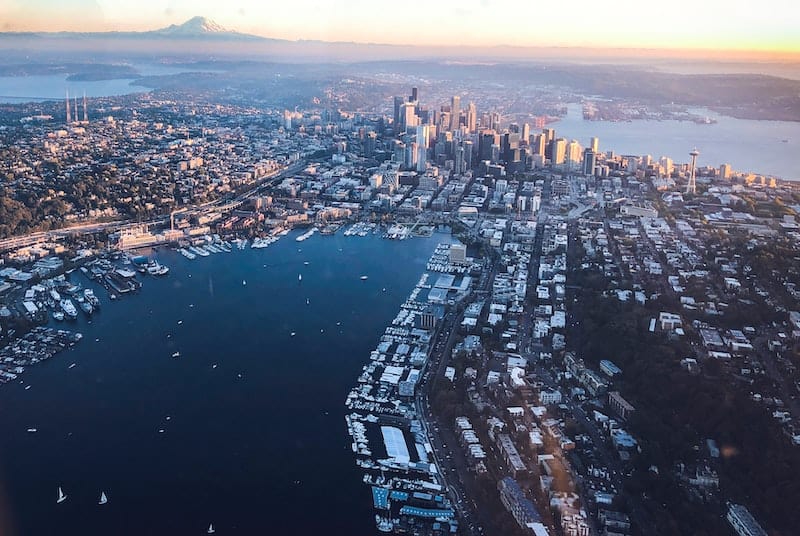 Lake Union is one of the most popular spots for kayaking in Seattle. This 580-acre lake sits in an ideal location for a beautiful view of the city. You can see the city skyline to the south, the famous Space Needle to the west, capitol hill to the east, and the Wallingford neighborhood to the north.
Paddling on Lake Union is relatively easy and perfect for expert and beginner kayakers. If you don't have a kayak, you can rent from three shops: Northwest Outdoor Center, Moss Bay, or Agua Verde Cafe and Paddle Club. You can find all three rental shops on the south side of the lake.
Regardless of where you rent your kayak, the lake's most popular access point is at Agua Verde Cafe. Something unique about this location is that you can watch float planes taking off and landing on the lake.
You can stick close by the south side of the lake or paddle further north towards Gas Works Park. The closer to this park that you get, the better your view of the skyline will be. Gas Works Park is also an access point.
2. Alki Beach, WA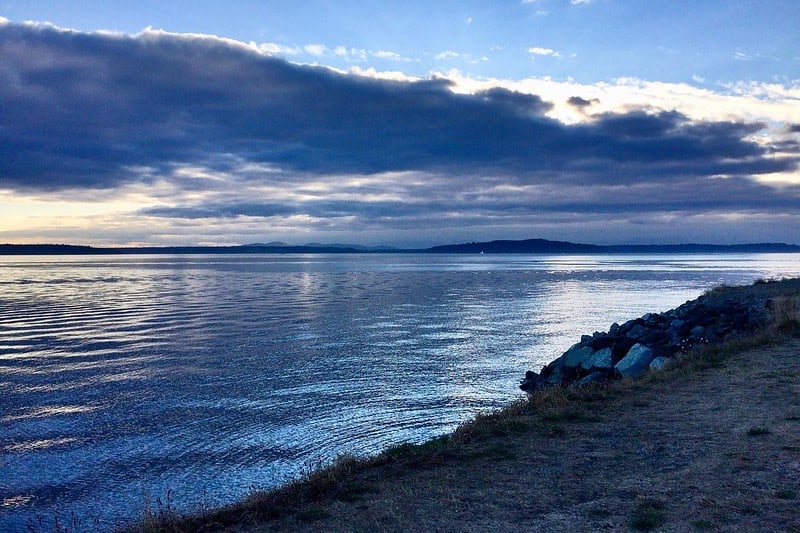 Alki Beach is a public beach in West Seattle. The waters of the coast extend to Elliott Bay. The waters closer to the shore shouldn't be tricky, even for beginners. However, the further out you venture into the bay, you may encounter some rougher water or stronger currents.
Because Alki Beach is a public beach, you can access the water from any point on the shoreline. Many people like to stay relatively close to the beach, but other popular routes kayakers take are to paddle to the Alki Lighthouse or Harbor Island and back to the beach.
If you choose to paddle into Elliott Bay, be on the lookout for ferries and other boats. This is also a popular spot to watch the sunset from the water.
Alki Kayak Tours offers rental kayaks and guided tours around this area. You don't need to have a tour guide, but if you want to paddle further away from shore and aren't the most experienced kayaker, having a tour guide isn't a bad idea.
3. Warren G. Magnuson Park, WA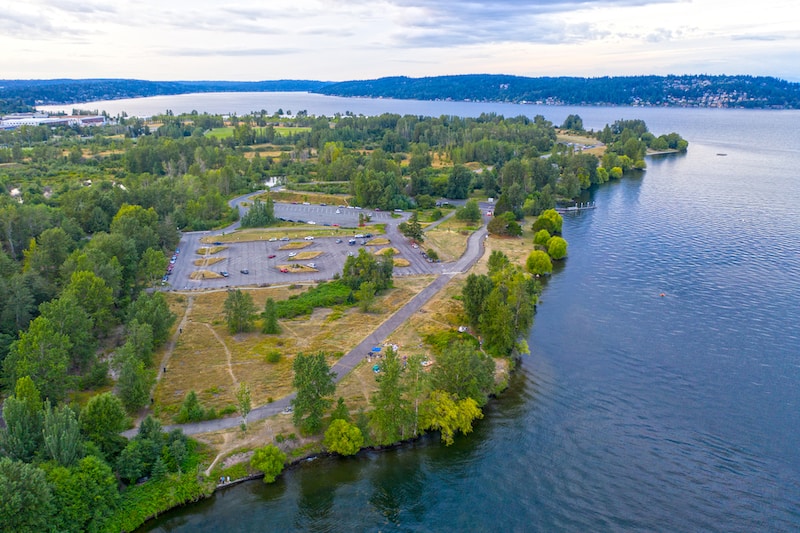 Warren G. Magnuson Park is in northeast Seattle and is the best access point for kayaking on Lake Washington. Since Lake Washington is on the east side of the city and doesn't directly connect with the ocean, the waters are naturally calm here.
The calm waters make this an ideal kayaking spot for those with young children or families of varying skill levels. You'll even catch experienced kayakers paddling the waters here to perfect their paddle.
You can rent kayaks or take lessons from Sail Sand Point. Sail Sand Point is the community boathouse that's inside the park near water access points. When you're on the waters of Lake Washington, you'll be surrounded by other water enthusiasts and sailboats.
4. Skykomish River, WA
For a more adventurous kayaking experience, the Skykomish River is the perfect spot. It takes anywhere from 45 minutes to an hour to reach the river from Seattle. Skykomish River is the closest whitewater rapids you'll find to the city.
The river runs for about 29 miles and has everything from class I to class V rapids. The most popular route on this river is the stretch from Big Eddy to Sultan. This stretch has both class I and II rapids, making it great for an adventure but easy enough that newer kayakers won't feel too nervous.
You'll begin about a mile beyond the eastside of Gold Bar, under the Skykomish Bridge. This route usually takes kayakers two to three hours to complete. Within minutes of launching into the water, you'll be greeted with class II rapids.
The hardest parts of this route are in the beginning. Once you get past those, it's only minor rapids the rest of the way. Unfortunately, there aren't any rental shops right on the river, so you'll need to bring gear or rent from a nearby store before heading to the river.
5. Fox Island, WA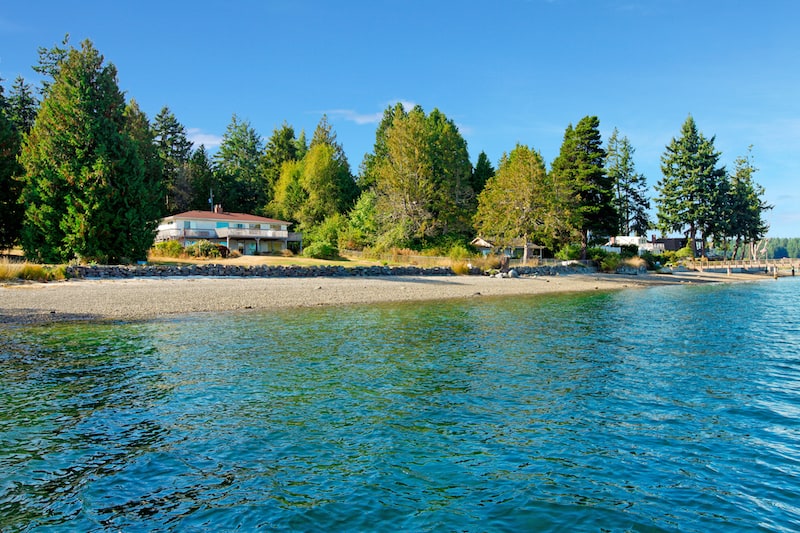 Kayaking at Fox Island is the best place to kayak near Seattle if you want stunning views of Mount Rainier. In addition to seeing Mount Rainier, on a clear day, of course, you'll have views of the Tacoma Narrows Bridge.
The two most popular launch sites for Fox Island are Titlow Park or the Fox Island boat launch. One thing to keep in mind is that if you enter the water at Titlow Park, the waters tend to have stronger currents over there as you paddle through the Tacoma narrows.
If you're not comfortable paddling through strong currents, the Fox Island boat launch may be a better access point for you.
6. Sammamish River, WA
If you're looking for a day on the river but aren't interested in encountering rapids, the Sammamish River is an excellent choice. Unlike the Skykomish River, the Sammamish is a flat water river. It almost feels like you're floating in a lazy river.
The river's full length is 13 miles, but there are plenty of entrance and exit points along the river if you don't want to paddle or float for 13 miles. This slow-moving river has little to no current, making it perfect for beginners and children.
Something that some kayakers do on this river is paddle upstream. Since the Sammamish River has little to no current, paddling upstream isn't challenging but will still provide some resistance. It makes for a great workout.
Most people access the river through Marymoor Park in Redland, Washington. However, there is another popular access point in Bothell that has kayak rentals too.
7. Duwamish River, WA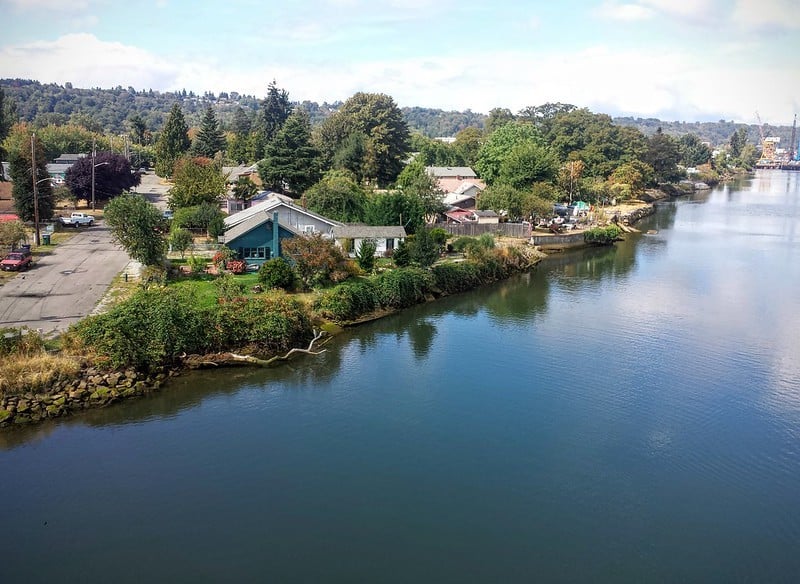 Kayaking the Duwamish River isn't going to be a wilderness experience. Instead, you'll be paddling through neighborhoods and towards the city of Seattle. This river's most common access point is in Duwamish Waterway Park, which is less than seven miles from downtown.
Most people enjoy getting in the water at Duwamish Waterway Park and paddling to Elliott Bay and back. It's a great day activity and easy enough for beginners and children. You may see some seals, salmon, and sea lions the closer you get to Elliott Bay.
8. Bainbridge Island, WA
You'll need to drive or take the ferry from Seattle to Bainbridge Island. Driving will take longer, but the ferry can get you there in just under an hour. You'll board the ferry at Seattle Ferry Terminal in Pioneer Square, and it will drop you off at the Bainbridge terminal across the bay.
If you're taking a passenger-only ferry, you won't be able to bring your kayak with you. However, Exotic Aquatics has kayaks for rent. You'll need to book your kayak rental online and in advance. You don't need to book a tour with them, but they offer a moonlight kayaking tour where you can see Seattle lit up.
You can kayak in Eagle Harbor with calmer waters and land on both sides or venture out into the bay. The further you paddle into the bay, the stronger the currents may be. You'll also need to be wary of ferries and boats.
9. Rattlesnake Lake, WA
Rattlesnake Lake is a 111-acre lake. This freshwater lake supplies Seattle and some surrounding areas with freshwater. The water levels in the lake are low and almost entirely flat.
The flat waters make it easy to paddle regardless of your skill level. North Bend Outside Rental Company has plenty of kayaks for rent and any other gear you may need to enjoy your day on the lake.
10. Mukilteo Lighthouse Park, WA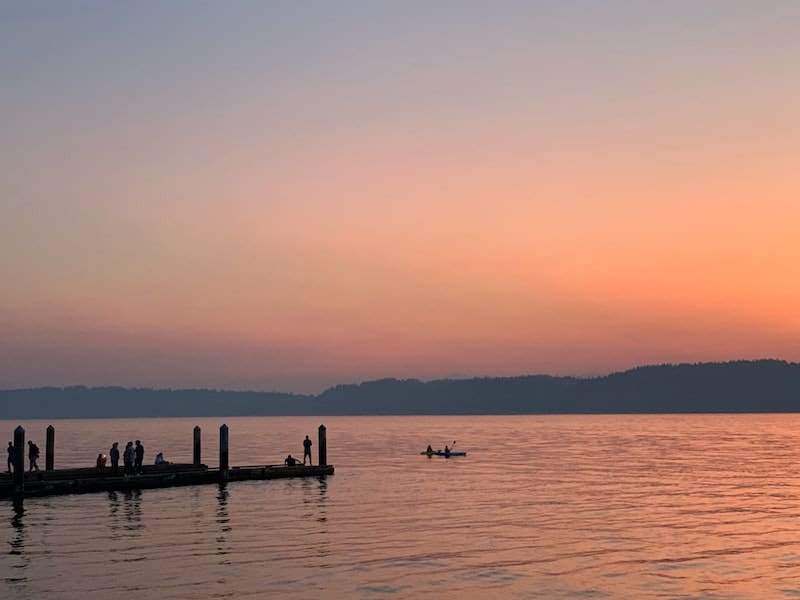 Lighthouse Park is in Mukilteo, Washington, and only 35 minutes from Seattle. You can launch from the shoreline into the ocean. You can paddle north to the Possession Sound or south into the Puget Sound. A popular route kayakers like to take is around Hat Island and back.
From February until May, you might get lucky and see whales. While this is a beautiful place to kayak, it can be challenging because of the strong currents in these waters.
Summing up the Beat Places to Kayak Near Seattle
Whether you prefer calm kayaking or something more adventurous, there's something for every kayaker in Seattle. If you don't own a kayak, almost every location has a rental shop, and if they don't, there's plenty scattered throughout the city.
Before you head out on the water, making sure you understand the location and possible currents is essential to ensuring a safe and fun day on the water.