With so many diverse lakes, rivers, and landscapes in Wichita and its surroundings, there is always a place for you to go kayaking. Kayaking is one of the best ways to enjoy nature, exercise, and develop a new perspective about your environment.
Generally, slow-moving rivers, ponds, and lakes tend to build and refine your kayaking skills if you're a beginner. Besides enjoying kayaking, the rivers, lakes, whitewater parks, and state parks in Wichita and its surroundings let you de-stress yourself while you do what you love most ‒ kayaking.
Whether you're in your 50s or you're a teenager, you'll enjoy kayaking in Wichita and its surroundings. Let's now look at the 10 best places to kayak in and around Wichita.
For other kayaking destinations nearby, check out our post on the best places to kayak in Kansas State here.
1. Little Arkansas River, KS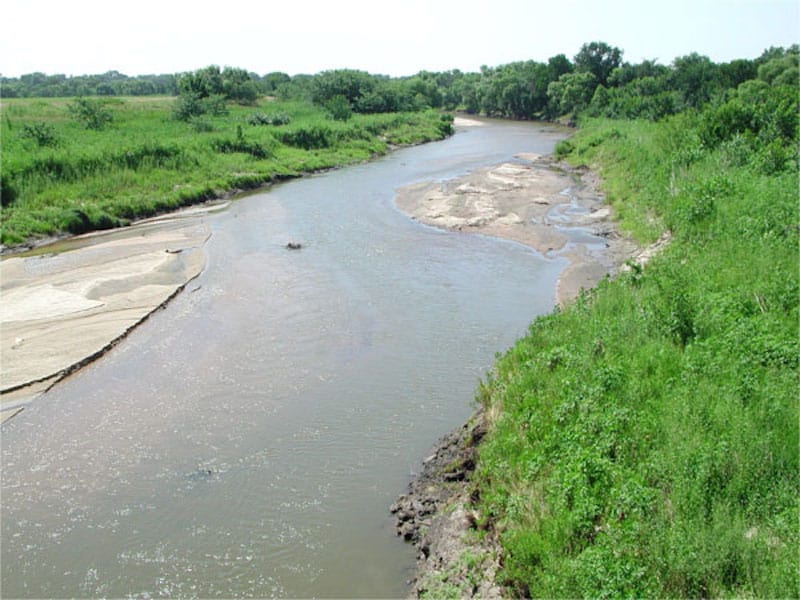 Located in Wichita, Arkansas River provides 192 miles of whitewater to kayakers and rafters. Being the most popular whitewater in the United States, the river offers an excellent place for beginners to learn kayaking.
The river starts in the Rocky Mountains, not far from Leadville, Colorado, and offers unique whitewater adventures for thousands of guests each year. The best season to kayak is between April and September, with the peak tourist season being June through August.
However, conditions at this public waterway can sometimes vary, and as such, you must stay aware of the river's weather and water conditions.
Some sections of the Little Arkansas River that are popular for Kayaking include Royal Gorge (class IV-V), Bighorn Sheep Canyon (class II, III-IV), the Narrows (class III-IV), Browns Canyon (class III-IV), the Numbers (class IV-V), and Pine Creek (class V). The sections pass through the kayaking and rafting towns of Canon City, Salida, and Buena Vista.
2. Tuttle Creek Lake, KS
Tuttle Creek Lake is located 135 miles northwest of Wichita. The lake is the second-largest reservoir in Kansas, which covers about 12,500 acres of water. It's surrounded by 100 miles of rugged wooded shoreline.
In addition, 16000 acres of land around the lake have been preserved for wildlife and hunting activities. The lake has two access points(about 3 miles apart) into the Kansas River. It offers several paddling options; experienced paddlers find spots along the Tuttle Creek Lake while beginners opt for the River pond.
That makes it an excellent spot for kayak learners to practice maneuvering. Visitors also get a full-service marina, horse riding, and a nature trail. Moreover, you can rent kayaks or canoes at affordable prices from the Tuttle Creek State Park headquarters.
3. Fall River, KS
Fall River is located between the Flint Hills and the Cross Timbers region and is about a one-hour drive from Wichita. Falls River is one of the best places for kayaking and provides opportunities for outdoor activities such as swimming, boating, jet skiing, camping, and sightseeing.
If you love nature, photography, and watching birds, you will enjoy miles of public wildlife. Some of the most common wildlife species you are likely to encounter include chicken, rabbits, wild turkey, dove, quail, and squirrel deers.
Whether you're an amateur paddler looking to enjoy the scenic beauty of this river, or a hard-core paddler who likes navigating twists and turns, Fall River has got you covered.
Generally, the river has a calm atmosphere that lets everyone in the family have some fun. However, you need to be cautious if there have been heavy rains.
4. Wilson Lake, KS
With over 9,000 acres of magnificent space, Wilson lake is one of the best spots for canoers, windsurfers, and kayakers. In addition, the lake is surrounded by a walking trail, a playground, and a golf course.
The lake is located at the heart of the scenic Smoky Hills, which boasts many enjoyable activities for visitors. Other than Kayaking, visitors can engage in swimming, biking, and hunting. These activities are available during weekends as well as weekdays.
You will find several parks along the shoreline, with the most popular being Wilson State Park. The water volume, surface area, and surface elevation of the lake usually fluctuate based on local climatic conditions and inflow.
The lake is a reservoir built by the U.S. Army for Flood control, irrigation, water quality assurance, fish and wildlife habitat, and recreation.
5. Cross Timbers State Park, KS
Located near Toronto reservoir (one of the prettiest lakes in Kansas), Cross Timbers State Park is about 80 miles east of Wichita. In this park, you enjoy 45 minutes of paddling in the waters and appreciate the beautiful scenery of the Chautauqua hills.
What's more, you get to use the kayaks, paddles, jackets, and interpretive booklets for free. However, it's advisable to make reservations. If you're unlucky to get a kayak, you can enjoy other activities, such as biking on the 15 miles trail, hiking or wildlife, and bird viewing.
There are about 15 signs on the blue water trail that guide paddlers along the way through Mann's Cove on the northeast region of the lake. The signs indicate things like formations, faunas, and rocks. You'll also find amenities, such as a playfield, swimming beach, parking area, modern washrooms, and dump stations at the park.
6. Santa Fe Lake, KS
With its calm waters for kayaking and paddling, more than 3000 paddle crafts float seasonally on this lake, exploring the beautiful sights at the lake. Santa Fe Lake is located about 10 minutes from Wichita.
The lake allows you to explore more with a medium-size feel, unlike larger lakes where paddling can be a daunting exercise. The lake also has a 7 miles trail that lets you enjoy hiking, bicycling, and walking.
Other outdoor activities at this place include swimming, fishing (catch-and-release), and boating. If you don't own a kayak or paddleboard, you can purchase or rent from Flatwater Fitness and Fun, situated next to the lake office.
7. Quanah Parker Lake, OK
Quanah Parker Lake is set at the Wichita Mountains Wildlife Refuge center, boasting 89 acres of water and 3 miles of shoreline. The lake was built in the 1930s as a federal work project, so there are several recreational opportunities around this lake.
Besides kayaking, people who visit this place get hiking trails, rock climbing, and handicap-accessible trails. The lake is also home to hundreds if not thousands of native plants and animal species.
That makes Quanah Parker Lake one of the best destinations for people looking to enjoy outdoor activities.
Since the federal government protects Quanah Parker Lake, no development can take place around the lake. Given that there are no buildings, you'll have an incredible view of the lake and those kayaking at any time of the day.
You'll also get to see Oklahoma's natural wonders while kayaking.
8. Watson Park, KS
OJ Watson Park is among the largest parks in Wichita. The park covers about 119 acres and is a favorite among family members looking to have a good time on the water and utilize available playgrounds.
Other great things you will find at Watson Park include mini-golf, pony rides, train rides, pedal boats, and fishing. Tourists visit these parks to kayak and go for a family ride around the park using the miniature train ride.
If you are new to kayaking, you should not worry since you will receive basic instructions about kayaking paddling techniques and safety measures.
The weight limit for kayaking at Watson Park is 250 lbs, and it's mandatory for every rider to wear a life jacket; the jackets will be provided. You can either bring your kayak or pay a daily fee for the kayak you wish to use.
9. Lake Hefner, OK
Set in the southwest of Wichita, Lake Hefner is a reservoir built-in 1947 to increase the supply of water to the city of Oklahoma. The lake covers approximately 2,500 acres and is about 29 feet deep.
Due to the popularity of Lake Hefner, you'll find kayakers, runners, skateboarders, and even walkers along the trails that surround the lake at any time of the day. The mid waters of the lake make it easy to get on the water with your kayak.
It's worth noting that no swimming or camping is allowed at Lake Hefner. If you have a valid fishing license, you can fish on the shoreline of the lake.
You'll also enjoy fresh seafood and bird watching at the shores of the lake. Additionally, there are several waterbird species you'll find along the lake's 17-mile shoreline, especially during the annual migration.
10. Skiatook Lake, OK
Skiatook Lake is an artificial lake located to the southeast of Wichita. It was founded in 1872. The lake is surrounded by prairie grass, oak trees, and sandstone and is about 11 miles (18 km) east of Hominy, Oklahoma.
The lake has a depth of up to 120 feet and 160 miles of shoreline. The shoreline has steep picturesque bluffs that offer visitors a fantastic view of the lake from a distance.
Skiatook Lake is a good option not only if you love kayaking, but also if you want to enjoy other outdoor activities. Some of these activities include hiking, camping, fishing, hunting, and picking.
Summing up the Best Places to Kayak Near Wchita
We hope you've enjoyed reading about our favorite places to kayak and canoe in Wichita.
Whether it's a day trip or an overnight excursion, we encourage everyone to get out on the water so they can experience how amazing this city is from the perspective of paddling around!
Have a great trip!