It can be hard to find a compact inflatable that performs equally well in rapids and in calm lakes, with the versatility for all your outdoor adventures, and the ability to go wherever the water takes you. But the Sea Eagle 300x Explorer is designed to be just that kayak.
In our opinion, The Sea Eagle 300x Explorer is the best inflatable kayak for whitewater that money can buy. With a skeg and rigid floor for great maneuverability when paddling in calm water, but with the 16 drain valves and a hull tough enough to tackle rapids up to Class IV. Sea Eagle Explorers are so tough, the company filmed a "torture test" to show off the kind of punishment they can take. This little inflatable resists tears, punctures, and abrasions, for years of enjoyment in any kind of water.
Overview of the Sea Eagle 300x
Specs
Type: 1-person inflatable kayak
Size: Inflated size: 9'10" x 3'3"
Deflated size: 24" x 16" x 6"
Tube diameter: 29 cm
Weight: 28 pounds
Weight capacity: 350 pounds
Interior space: 267 cm x 41 cm
Materials: 1000 denier polyester-supported high pressure PVC
Seams: Glued quadruple overlapped
Air chambers: 3
Valves: Recessed one-way valves
Inflation time: 5 minutes
Inflation pressure: 3.2 psi
Rating: Suitable up to Class IV rapids
Certifications: NMMA certified
Construction and build
The Sea Eagle 300x Explorer has three air chambers for safety but sets up in just five minutes. It's made of 1000 denier reinforced PVC, with glued quadruple overlapped seams for durability.
This kayak has a high pressure drop stitch floor that provides improved rigidity and responsiveness, while remaining lightweight and portable. The floor is removable, making it and the kayak easy to clean.
The swept-back skeg can be removed by sliding it out with the kayak inflated or deflated, so you can customize your tracking based on changing water conditions, and easily transition between white and flat water. It also has 16 rapid self-bailing drain valves that are easy to open and shut, making it suitable for white or flat water, and wet or dry conditions. It also has front and rear spray skirts with carrying handles and bungee cords. It also has 18 D-rings, giving you even more options for securing your gear or your kayak.
The inflatable seat is stable and comfortable, with a storage pocket on the back.
The Sea Eagle 300x Inflatable Explorer includes a compact and portable repair kit, a foot-powered air pump, and a rugged carrying bag.
About the Brand
Founded in 1969, Sea Eagle is a family business based on Long Island, New York. The Sea Eagle team can often be found exploring the local waterways and historic Port Jefferson Harbor.
Since their first inflatable kayak in 1968, Sea Eagle has expanded to include touring kayaks, SUPs, transom boats, and motor mount boats. They strive to build products that offer quality, reliability, and affordability, along with personal and supportive customer service.
Sea Eagle Explorer inflatable kayaks are designed as wet or dry boats that are tough enough for class IV rapids. They are also stable and comfortable on flat water, and friendly for beginners. Rapid self-bailing, removable skegs, rugged construction, and fast and easy setup make Sea Eagle Explorers a great choice for any adventure.
Pros
Rugged abrasion-resistant reinforced PVC construction
Quadruple overlapped glued seams for durability
Removable high pressure drop stitched floor for rigidity
16 rapid self-bailing drain valves
Rated for up to 350 pounds
Rated for up to Class IV rapids
Recessed one-way air valves
Removable skeg for improved tracking when needed
Front and rear spray skirts with bungee cords for handling and storage
Convenient carrying handles
NMMA certified
Comes with carrying bag, repair kit, and air pump
Cons
Self-bailing drains are difficult to access from inside the inflated boat, making it more difficult to adjust while you are paddling
Other Options
The Sea Eagle 300x is one of our favorite inflatable kayaks so much so that we put it in the top spot for inflatable whitewater kayaks. But as great as it is, it can only fit one person and if you're looking to go our with a friend it won't do much good. Thankfully Sea Eagle have made two other models that are able to carry more than one person.
Sea Eagle 380x Inflatable Kayak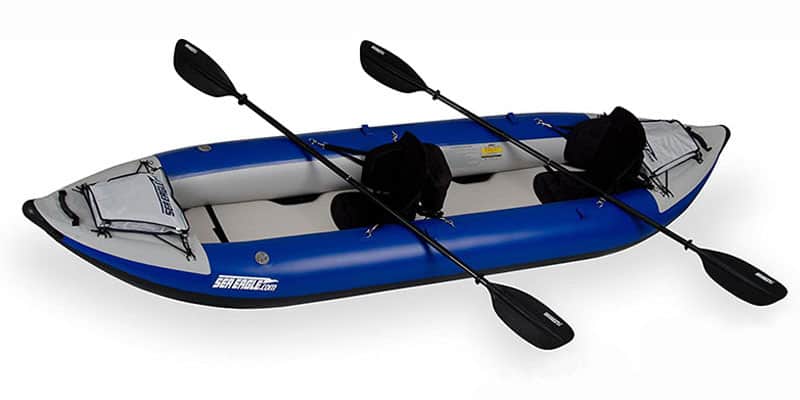 The Sea Eagle 380x is almost exactly the same as the 300x except it's got space for two people! As you'd expect though, it's quite a bit heavier and longer weighing in at 40lbs and just over 12 feet long. But, it does have a massive weight capacity of 750lbs so is more than capable of carrying you, a friend and any supplies you need out on the rapids.
Sea Eagle 420x Inflatable Kayak
If the 300x and the 380x aren't enough for you, Sea Eagle also made the 420x which has enough room for three people! Again, it's also built with the high quality, durable, attention to detail that you'd expect from Sea Eagle. It's an idea choice for a small family to hit the river as you could fit two large adults and a child if you needed.
Conclusion
The Sea Eagle 300x Inflatable Explorer Kayak is an incredibly rugged, durable inflatable that will bounce of rocks and manage Class IV rapids with ease. The self-bailing drains, spray skirts, and tough 1000 denier PVC with quadruple overlapped seams are up for your toughest adventure.
And yet it's also a stable, spacious, comfortable kayak for calm waters, with high cargo capacity and ample room for a cooler or a pet.
When not in use, this kayak packs down to just 28 pounds and fits inside a compact 24 x 16 x 6 inch bag, making it easy to store in a closet or garage, tuck into an RV or car trunk, or even check on an airplane or carry on a hike. It's fast and easy to set up anywhere, and incredibly easy and convenient to use.
The Sea Eagle Explorer is an incredibly popular inflatable kayak that has been in production for 40 years and has been used by outdoor enthusiasts around the world. It's a great choice for kayakers of all levels.