The Sea Eagle 380x Explorer Inflatable Kayak is designed for versatility, with a skeg and rigid floor for great performance when paddling. Or remove the skeg, open the drain valves, and easily tackle up to Class IV rapids with this incredibly tough inflatable. This tough inflatable kayak is also powerful, with up to 750 pounds weight capacity, and sets up in just minutes. It's a great choice in an affordable, versatile, reliable inflatable.
In this post, we'll take a look at why it's so suitable for people looking to buy inflatable kayaks for whitewater in our Sea Eagle 380x review.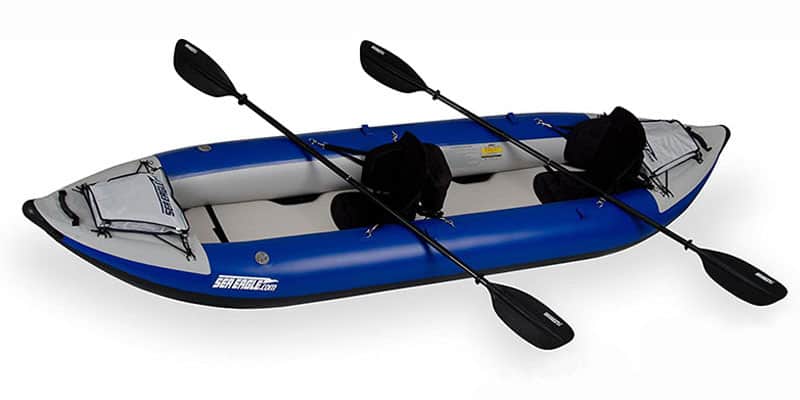 Overview of the Sea Eagle 380x
Specs
Type: 2-3 person inflatable kayak
Size: Inflated size: 12'6 x 39" inches
Deflated size: 31" x 20" 9"
Weight: 40 pounds
Weight capacity: 750 pounds
Interior capacity: 358 cm x 38 cm
Materials: 1000 denier polyester-supported high pressure PVC
Seams: Glued quadruple overlapped
Air chambers: 3
Valves: Recessed one-way valves
Inflation time: 8 minutes
Rating: Suitable up to Class IV rapids
Certifications: NMMA certified
Construction and build
The Sea Eagle 380x Inflatable Kayak has three air chambers for safety and durability. It's made of 1000 denier reinforced PVC, with glued quadruple overlapped seams for ruggedness and abrasion resistance.
It has a removable high pressure drop stitch floor that provides improved rigidity and responsiveness, while remaining portable and easy to clean.
The slide-in swept-back skeg can be removed with the kayak inflated or deflated, so you can customize your tracking based on changing water conditions, and easily transition between white and flat water.
It has 16 high capacity self-bailing drain valves that are easy to open and close as needed.
Front and rear spray skirts have carry handles and bungee cords for secure storage, and 24 D-rings give you even more options for storage and gear.
The Pro Package includes two TBS tall back seats, two 8′ AB40 paddles, two kayak stow bags, a kayak carrying bag, an A41 foot pump, and a repair kit. The Sea Eagle 380x Inflatable Kayak is backed by a three year manufacturer's warranty.
About the Brand: Sea Eagle
Sea Eagle is a family business based in Long Island, New York, and has been making inflatable boats since 1968. The family shares a passion for exploring local waterways and adventure kayaking that leads them to build high quality boats at an affordable price. They take pride in the care, quality, and service that go into every product,
The Sea Eagle Explorer series are designed as wet or dry boats, tough enough for class IV rapids, but also stable, comfortable, and dry on flat water. Super-fast self-bailing drain valves can be open or closed for any paddling conditions, and Explorers have a removable skeg for improved tracking when needed. The Sea Eagle Explorer line is designed for versatility, reliability, and the capability of handling any adventure.
Pros
Very high 750 pound weight capacity
Incredibly rugged abrasion and puncture resistant construction
Rigid removable floor
Rated for up to Class IV rapids
Recessed one-way valves
Self-bailing valves
Skeg can be removed when the boat is inflated or deflated
Front and rear spray skirts with bungee cords
24 D-rings
Compatible with Sea Eagle motor mount for optional 15 pound thrust electric engine
Complete package includes seats, paddles, stow bags, carry bag, air pump, and more
Cons
While it has the weight capacity for 3 people, 3 adults will likely be uncomfortable with restricted leg room
Self-bailing drains are difficult to access from inside the inflated boat, making it hard to adjust them mid-stream, as it were
Other Options
Although the Sea Eagle 380x is definitely at the top of the list for inflatable kayaks, it is a little pricey. If you're on a budget there are a couple of other options that could be worth considering.
Sea Eagle 300x Explorer
If you're not too bothered about having space for a friend and just want a solo kayak version then take a look at the Sea Eagle 300x Explorer which is the solo version of the 380x. It's made from the same highly durable material and so is able to withstand everything you can throw at it, plus, it's got all the same features but is a bit shorter, lighter and cheaper. What's not to like. Check it out below.
Sea Eagle 370 Kayak
If you're on a real budget but want something more entry level then take a look at our Sea Eagle 370 review here. It's not as tough as the Explorer series and can't handle the same level of whitewater but is still suitable for up to class III rapids, can fit two adults comfortable and comes quite a bit cheaper. Get the best price below.
Conclusion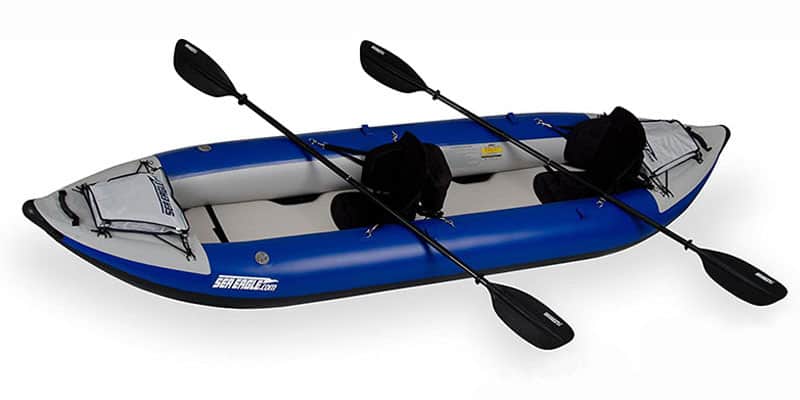 The Sea Eagle 380x Inflatable Kayak is a larger, high capacity tandem version of the enduring Sea Eagle Explorer line. Sea Eagle Explorers are designed for wet or dry conditions, with incredible ruggedness for rough water, but stability and comfort on flat water as well. This incredibly tough inflatable can handle up to Class IV rapids, with 4 high capacity self-bailing drain valves, front and rear spray skirts, and a drop stitch floor for rigidity and control. On flat water, enjoy the comfortable seats, the large removable swept back skeg, and even add a motor if you choose.
The pro package comes with two seats, two paddles, a repair kit, an air pump, and a carry bag, so it's everything you need to enjoy years of fun and adventure on the water, in one convenient affordable package.