The Sea Eagle SE370 is an inflatable kayak with a generous size and robust weight capacity, so you can have the convenience and portability of an inflatable, without sacrificing room, comfort, or durability. It can hold up to 650 pounds, has a durable vinyl hull that won't be punctured by dog paws, and is rated for seawater and up to Class III rapids, so there are no water activities too adventurous for this fun, rugged inflatable kayak.
In this post, we're going to give you our Sea Eagle SE370 review and look at some of its features that make it a great whitewater inflatable kayak and a perfect option for beginners and experienced paddlers alike.
An Overview Of The Sea Eagle SE370 Kayak
The Sea Eagle SE370 is a rugged, durable inflatable kayak that is large enough for 3 adults and up to a total of 650 pounds The thick vinyl construction can withstand abrasions and impacts, and can easily manage rough waters, oyster beds, dog paws, and last for year after year. And yet it still quickly deflates and packs down into a bag that can be easily transported in the trunk, carried over your shoulder, or stored in a closet. It has all the convenience of an inflatable, but all the durability of a hard hulled kayak, so you never have to curtail your adventurous spirit.
While the SE370 can manage 3 adults within its weight rating, the interior is 10 feet 8 inches, which is probably too small for 3 adults to be comfortable, and it only comes with 2 seats. It's the perfect size for two adults and a child or a pet, or for longer solo adventures with all the fishing or camping gear you want to transport.
Specifications
Inflated size – 12 feet 6 inches x 2 feet 10 inches
Deflated size – 31 inches x 19 inches x 8 inches
Weight – 32 pounds
Weight capacity – 3 people/650 pounds
Quality and safety certification
NMMA certified and rated for whitewater rapids up to Class III
What did we like about how it's made?
Three air chambers – Multiple air chambers create greater stability and reliability in an inflatable kayak.
5 deluxe one-way air valves – The deluxe valves make inflation and deflation fast and simple.
High-frequency welded seams – The welded seams provide rugged durability in the hull.
Strong plastic material – The 38 mil polykrylar hull is saltwater and UV resistant, adding to the durability and versatility of this kayak.
Inflatable I-beam floor – The inflatable I-beam floor provides greater stability and rigidity.
What we like about the design
2 bottom skegs – Dual bottom skegs provide improved tracking and speed.
Bow and stern grab lines – The grab lines make it easy to transport, anchor, or tow the kayak.
Inflatable spray skirts – The lashed down inflatable spray skirts improve the hull shape and rigidity for easier tracking, and help this kayak manage rougher waters without taking on unnecessary water.
Drain valve – A built-in drain valve helps remove excess water for faster cleanup and stowing of the SE370, and helps in rough water conditions.
Deluxe seats – The SE370 comes with deluxe seats that are comfortable and durable, with 5" high seating for great comfort and visibility, with good back support. The seats also have convenient storage pockets on the back to keep small stowed items close at hand.
What accessories are included?
Paddles – The included 2x 8-foot AB30 paddles are a great accessory for this kayak. They break down for easy portability, but are long enough for comfortable, prolonged use on the kayak, and can be adjusted for your preferred offset.
A foot pump – The high-volume foot pump makes inflation fast and easy.
A repair kit – The included repair kit comes in a small waterproof capsule, so you can quickly make durable repairs in the event of leak or puncture.
A carry bag – The entire kayak kit packs down into an included bag that has a drawstring closure, and a rugged shoulder strap to make carrying the kayak easy.
How to Use the Sea Eagle SE370
The SE370 comes with detailed inflation instructions and can be fully inflated and ready for the water in less than 10 minutes with everything that comes in the kit.
For a thorough overview of setting up the SE370, YouTubers Road Gear Reviews does an excellent demonstration of the inflation and setup process here:
This video shows how fast and simple it is to get the SE370 fully inflated and ready for the water, and shares some of their impressions and feedback on the kayak after several months of use. It gives good insight on what to expect when initially inflating the kayak.
Sea Eagle SE370 Kayak Pros
Portable and lightweight
This full-size kayak, along with the pump, paddles, seats, and accessories packs down into a bag that is just 2.5 feet long and weighs 36 lbs. While most people wouldn't want to hike a long-distance carrying that weight, it's still incredibly convenient for carrying to and from a car or RV, or even for taking with you on a commercial flight.
Full size and capacity
Despite the small packing size, the inflated kayak is 12.5 feet long and can hold up to 650 pounds of weight, more than most inflatables its size. This means you can easily hold 2 adults and all your gear and cargo without ever worrying about the weight capacity or stability of the kayak.
Rugged and durable
The hull is made of K80 PVC, with the strength to withstand rocky shallow waters, the occasional impact, dog claws, and other common abrasions that may puncture more fragile inflatables and cause leaks. The hull is both sun and saltwater resistant plus it's backed by a 3-year warranty, so it will last for years of fun and enjoyment.
Complete kit in a bag
The SE370 is a complete kit in the bag, with the kayak, pump, seats, paddles, repair kit, and everything fits into the included carry bag. All the accessories are durable and high quality. This means that, if you already have personal protective equipment, there is nothing more to buy or add, and you can be on the water within minutes of opening the box.
Sea Eagle SE370 Kayak Cons
Susceptible to Wind
Because the SE370 sits high in the water, and the deluxe seats elevate paddlers up by 5 inches, the total elevation can make this kayak a bit susceptible to winds. Many less durable inflatable kayaks are only rated for calm, mild water, but the SE370 is rated for saltwater and white water, rougher conditions where wind may be more of an issue.
About the Sea Eagle Brand
The Sea Eagle company is based in Long Island, New York and has been making top-quality inflatable watercraft since 1968. It's a family-owned business, and their products are all designed and tested to their high standards. In fact, staff often enjoy Sea Eagle inflatables in the historic Port Jefferson Harbor near their offices. 
The company takes pride in their exceptional customer service, and stand behind their products with a 3-year warranty. Sea Eagle inflatables get rave reviews from customers and experts alike, and it's a great company. 
Other Options to Consider
The Sea Eagle 370 is one of the most popular inflatable kayaks at the moment, but there are a couple of other kayaks worth looking at when comparing it.
The Sea Eagle 380x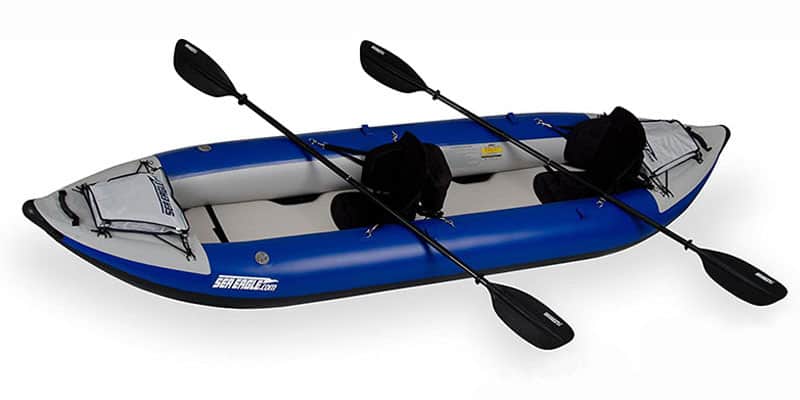 If you're wanting to get a good tandem inflatable kayak and have a bit more money to spend, then we'd strong suggest reading our Sea Eagle 380x review here. It's made from considerably stronger and more durable materials meaning that you can take it out on class IV whitewater. It's also got a huge 750lbs max weight capacity so you're able to take quite a bit more gear with you. Check it out below.
The Driftsun Rover 220
Another competitor to the Sea Eagle 370 is the Driftsun Rover 220. It's another class IV whitewater rated inflatable kayak that's suitable for two people, but, it's quite a bit more expensive. It has a number of features made for whitewater kayaking though like the self bailing ports, tie down points for camera mounts and comfortable seats.
Conclusion: Is the Sea Eagle 370 Worth it?
The Sea Eagle SE370 is a great option in an inflatable kayak, with the strength, durability, and versatility to go anywhere, any time. Whether you enjoy lakes, rivers, rapids, or the ocean, this kayak has the space, weight rating, and convenience that allows you to make the most of your holidays, beach vacations, or weekend getaways.