The Sevylor Fiji 2-Person Kayak is incredibly compact and lightweight for a tandem kayak, even for an inflatable. It weighs just 22 pounds but is rated for two adults and can carry up to 400 pounds.
It's a fun, sporty kayak that is an excellent choice for young and beginning kayakers, due to its stability, ease of setup, ease of getting in and handling, and excellent safety features. While it doesn't feature in our best two person inflatable kayak list, it's still very good, convenient, and easy to store when not in use. What's not to love about this fun little inflatable? 
Overview of the Sevylor Fiji
Specs
Type: 2-person inflatable kayak
Size: Inflated dimensions 10'4" x 2'9"
Weight: 22 pounds
Weight capacity: 400 pounds
Materials: 22 gauge PVC
Seams: RF welded seams
Valves: Double Lock Fast Valves
Air chambers: 3
Rating: Up to Class II white water
Certification: NMMA certified
Construction and build
The Sevylor Fiji 2-Person Kayak is extremely durable and rugged, with a 22 gauge PVC hull and RF welded seams. It's built with Sevylor's Airtight System and is guaranteed not to leak. Multiple air chambers add safety and redundancy to the inflatable system and create a semi-rigid I-beam floor construction.
The Sevylor Fiji 2-Person Kayak is rated for Class I and Class II white water, with spray covers on the bow and stern. It has one fixed seat at the rear, and one removable seat in the middle. It's incredibly light weight, at just 22 pounds, with built in carrying handles and a grab line.
The double lock valves have two locking points to make inflation and deflation fast and easy, and it's certified to hold up to 400 pounds.
The Sevylor Fiji 2-Person Kayak comes with a 5-piece touring paddle and a carrying bag.
About the brand: Sevylor
Sevylor has been producing high-quality PVC inflatables since 1948. Founded in France, the company first reached success with inflatable bathtubs and pool mattresses, with unique PVC formulations that held their shape regardless of temperature. In the late '60s, Sevylor began producing inflatable kayaks, and in the early 1980s, it was bought by the Zodiac group, a company famous for heavy-duty military inflatables.
Today, Sevylor is owned by Newell Brands, headquartered in Atlanta Georgia. Newell owns many of the best brands in inflatables and outdoor recreation, including Aerobed, Coleman, Marmot, and more. The company continues to make some of the most innovative, reliable, and most popular inflatable kayaks in the world.
Pros
Complete set with storage/carrying bag and paddle
Holds one or two people and up to 400 pounds
Lightweight and compact
Extremely rugged and durable
Rated for up to Class II rapids
NMMA certified
Easy to carry
Guaranteed not to leak
Multiple air chambers for rigidity and safety
Fast and easy to inflate and set up
Adjustable inflatable seats
Extremely affordable price
Cons
Most people will want to purchase the optional additional skeg, because this kayak does not track well without it
Seats aren't very supportive, for those who want more support or need it during harder paddling
Sevylor Fiji Alternatives
Although good if you're on a real budget, the Sevylor Fiji doesn't get rave reviews and so we don't jump to recommend it when people ask us. Below we've included some other options that might be better options to go for if you can afford it.
Sea Eagle 380x Inflatable Kayak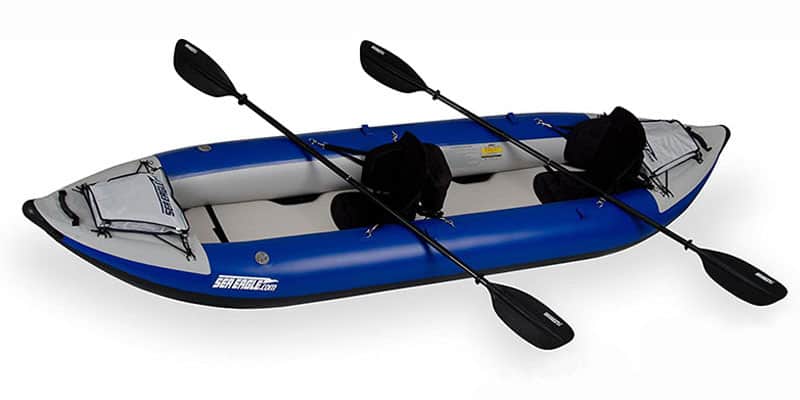 For those that can afford to spend a little more on their kayak, we'd highly recommend not going for the Sevylor Fiji and instead opting for the Sea Eagle 380x. It's one of the toughest and most durable inflatables around and is so strong you can actually drive over it in a 4×4 (seriously, we're not kidding watch this video). The only downside to it is that it's a lot pricier than the Fiji but well worth the extra investment if you can as it'll last so much longer. Click below for more information and to get the best price.
Sevylor Big Basin 3 Person Kayak
If you've got your heart set on the Sevylor brand but want something a little larger and with better reviews, then we'd suggest taking a look at the Sevylor Big Basin 3-Person Inflatable Kayak. It's huge and can sit comfortable 3 people with room left over for gear and supplies. An ideal kayak for a day out on a calm river or lake with freinds and family and it won't break the bank. Check it out below.
Conclusion
The Sevylor Fiji 2-Person Kayak is a great tandem kayak for beginners and young people who want a safe, affordable, fun kayak for flat water and mild white water. It's lightweight, portable, easy to carry, set up, store, and travel with. It comes with a paddle and a carrying bag, so it's a complete kit in one affordable purchase.
More experienced kayakers note that the Fiji 2 does not track well and is inefficient in the water, which can mean a lot of extra paddling to stay on course. And the inflatable seats aren't very supportive, so some body types may end up leaning back and low in the water, which can get uncomfortable for paddling over time.
However, for a fun, sporty, incredibly accessible beginner's inflatable kayak, the Fiji 2 is a great choice. It has excellent safety and stability and is durable enough for years of fun on the water.