Are you wondering if you need a specific kayak paddle for fishing? If so, what's the difference, and is it worth it? Kayak paddles haven't changed much over the years. While the phenomenon of kayak fishing is relatively new, paddles made specifically for anglers are just now hitting the market.
In this post, we'll break down the differences between regular kayak paddles and those designed for anglers as well as help you know what specs you need to look for. We'll also review what we think are the best fishing kayak paddles to help inspire you about which one to go for. Let's get started.
Quick Answer: The Best Kayak Paddles for Fishing
Name
Bending Branches Angler Pro Plus Fiberglass Kayak Paddle
Bending Branches Angler Ace Plus Fishing Paddle
Carlisle Magic Angler Kayak Paddle
KERCO Angler Pro Kayak Fishing Paddle
Bending Branches Angler Scout Kayak Paddle
Our Favorite
Name
Bending Branches Angler Pro Plus Fiberglass Kayak Paddle
Preview
Name
Carlisle Magic Angler Kayak Paddle
Preview
Name
KERCO Angler Pro Kayak Fishing Paddle
Preview
Name
Bending Branches Angler Scout Kayak Paddle
How to Choose a Kayak Paddle for Fishing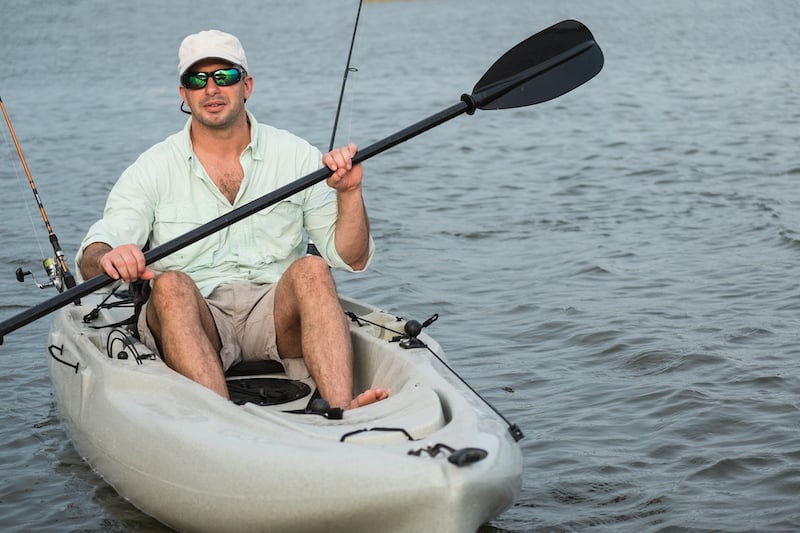 There's not much written about what makes a good fishing paddle. It can be assumed that fishing closely resembles touring or sea kayaking, but your experience might vary.
You can certainly make do by purchasing a good kayak paddle you love, it does not need to be branded as a fishing paddle. While some features might be attractive to you in a fishing-only model, but it's far more critical that the paddle be comfortable.
No matter what type of activity you're doing with it, a kayak paddle must be of the right length and as lightweight as you can afford. Money spent on a good paddle goes a long way towards enjoying your entire paddling experience more.
Fishing Paddles vs Regular Paddles
The most apparent difference is that anglers tend to use very wide kayaks that are heavily loaded. The importance of having an efficient paddle can't be overstated because it already takes some work to move a bigger and heavier kayak.
Many fishing paddles have a small notch cut in one or both blades that is useful for detangling fishing lines that get caught in branches or weeds. It's also common for these paddles to be made of hardier materials, like advanced plastics, that can take a little more punishment than super-lightweight touring paddles can. Paddles like this allow you to push off of rocky shorelines or underwater obstacles, tasks you'd never allow your $500 carbon paddle to tackle.
Picking the Best Fishing Paddle for Your Adventures
Beyond those few fishing-specific features, picking a paddle comes down to some basic recommendations. As with kayaks, it's often nice to be able to try things out before purchasing. If you've got a well-stocked outfitter nearby, try out some paddles before dropping serious money.
Paddle Sizing
Length: By far, the most important sizing consideration with paddles is the overall length. You must consider two factors: the height of your torso and the width of the kayak. Wider kayaks need long paddles, as do taller paddlers.
To find the ideal paddle size for you and your boat, check the paddle manufacturer's website for a sizing chart or check out our post here about correct kayak paddle sizing.
Shaft Width: An often overlooked factor is the diameter of the shaft. Paddlers with smaller hands may want to take the effort to find smaller shafts. During longer distance paddles, this can make a big difference in comfort.
Paddle Weight
After the length and width, the next essential feature to consider is a paddle's weight. This is the number one factor that affects the paddle's price. If it's lightweight, it will be made of more advanced, more expensive materials.
Construction Materials
Most kayak paddles are made of a mix of materials. For example, it's common for high-end paddles to use carbon fiber shafts with fiberglass blades. Low-end paddles may use aluminum shafts coupled with plastic blades. But, it's also not uncommon for one material to be used throughout the design.
Aluminum: Most bargain paddles are made from aluminum coated in a thin layer of plastic. They are heavy, and they nearly always have symmetrical and inefficient paddle blades. Kayak paddles should be a least a little streamlined and sexy. You don't have to spend a fortune, but do yourself a favor and leave all aluminum paddles for the rental boats.
Polypropylene and ABS: These are both types of plastic used in paddle design. Both are on the heavier side, but a nice plastic blade can be pretty rugged. More expensive and lightweight blades will be fragile, easily chipped, and very thin. As an angler, you may be inclined to choose a hardier paddle over a delicate one.
Many more advanced plastics are described as being fiber-reinforced. This is a bit confusing, but it simply means that it's a plastic that has some internal structure to it to make it strong. It should be better than regular plastic but still heavier than pure fiberglass.
Fiberglass: Fiberglass is a high-quality and durable composite. It is not only lightweight but it can also be molded and shaped into very efficient designs. Fiberglass is costlier than plastic or aluminum, but the material is well worth the extra expense.
Carbon Fiber: The most expensive and most advanced material used is carbon fiber. These paddles nearly always that the trademark black weave that is associated with the material. It's thin, lightweight, and extremely strong. It can be chipped, but not quite as easily as fiberglass. Carbon paddles are the best of all worlds–they weigh little, are strong, and have the most efficient designs.
Blade Shapes
Dihedral vs. Asymmetrical: The most basic paddle blades are symmetrical. This means that the top of the blade is identical to the bottom, and the front is the same as the back. These are the most inefficient blades and are not much fun to paddle with. They're best reserved for emergency paddles that you don't plan to use much.
Asymmetrical blades have a longer edge on top. Their shape is optimized for the angle at which you will be holding the paddle as you stroke. Unlike symmetrical paddles, it is possible to hold an asymmetrical paddle upside down.
Dihedral is an angle built into the blade that helps it moves through the water with less effort. It is identifiable by a spine down the center of the paddle blade.
High-Angle vs. Low-Angle: The angle of a paddle refers to the angle at which your shaft meets the water. Some paddlers enjoy sitting higher on raised chairs, so their paddles meet the water at high angles. Many racers or exercise paddlers use a stroke like this. A paddle optimized for this stroke style will have blades that are shorter and more rounded. A high-angle stroke is identifiable by how close to overhead the out-of-the-water blade is. If it's nearly overhead, that's a high-angle stroke.
In contrast, low-angle paddles are used when the paddle remains more horizontal during the stroke. The blades on such a paddle are longer and more oval-shaped. These paddles produce less power for each stroke, but they move effortlessly and are a pleasure to use for long-distance cruising.
Adjustability and the Number of Parts
One-piece paddles are becoming very rare. A single piece doesn't break apart and isn't adjustable. Most paddles you find are two-piece models that break apart in the center. At that center ferrule, you can rotate the two shaft halves to feather the blades. Most will allow for a left or a right-hand feather.
Paddles with more pieces break down farther. A four-piece paddle has removable blades, a handy feature if you need to store your paddle in small spaces. These are most commonly used on inflatable boats.
Cost
Of course, all of these factors fall into different price categories. The price of a paddle is generally associated first with the types of materials it is made from, directly correlating to its overall weight. Of course, premium brands cost a little bit more. But if you know where to look, values abound.
The rookie mistake to make is not budgeting enough money for the paddle. Of course, the kayak is the flashy, sexy vessel of your dreams, and it gets all of the attention. But once you find a paddle you love, chances are you'll keep it longer than you'll keep the kayak. You can buy cheap kayak paddles if you're just using it for fun but it's worth spending the extra money for a lightweight one.
Other Accessories for Fishing Paddles
Anglers will always appreciate a system for holding the paddle when not in use. While other kayakers may only put down the paddle for a moment to sip some water or grab a snapshot, anglers will be casting and reeling in the big ones.
Many fishing kayaks have a built-in paddle holder of some kind, be it a snap-lock system or a special bungee. A good paddle leash goes a long way in adding extra security to ensure that if you need to drop the paddle for any reason, it won't get far.
Best Rated Kayak Paddles for Fishing
Now that you hopefully have a better idea about what to look for in your kayak fishing paddle, it's time to look at some of the best models available on the market at the moment. Below, we've listed our kayak paddles for fishing reviews to help inspire you about which one to buy.
#1. Bending Branches Angler Pro Plus Fiberglass Telescoping Kayak Paddle
The gorgeous Angler Pro Plus from Bending Branches is about as perfect as a kayaking paddle can get. It's a two-piece design that can be adjusted to any feathering angle and also telescopes to all you to fine-tune the paddle length. The shaft is carbon, and the blades are fiberglass, providing a lightweight and affordable design. It weighs in at 29 ounces so you won't get tired after using it all day on a long weekend of fishing.
The fiberglass blades come in three beautiful designs and colors that are eye-catching and efficiently designed. They're designed to look like the scales of a fish which is a nice touch and although it's not necessary we loved it.
Another useful feature that we love on the Angler Pro is that it even features a tape measure on the shaft to measure your catch! All in all, a great choice, and although a little more expensive than some of the other options, the incredibly lightweight materials definitely justify spending the extra money. Check it out below.
#2. Bending Branches Angler Ace Plus Telescoping Fishing Kayak Paddle
In at number two we have another kayak paddle from Bending Branches, the Angler Ace is a slightly less expensive version of the Angler Pro. It ditches the fiberglass blades in favor of carbon-reinforced nylon blades. The word carbon is a bit misleading here since these are not carbon fiber blades. Instead, this is a sturdy plastic that can take a serious beating.
It shares a similar asymmetrical design with prominent dihedral to the fiberglass model. In the end, the Angler Ace totals 30 ounces, only one more than the Angler Pro. The two paddles share the same two-piece design with infinitely adjustable ferrule. The shaft is a marked tape measure, and the blade has a hook retrieval notch which can definitely come in handy.
Overall a great paddle and if you're on a tighter budget but still want a high quality, lightweight paddle then you can save a bit of money opting for this one over the Pro Plus.
#3. Carlisle Magic Angler Kayak Paddle
Sale
Next, we have the Carlisle Magic Angler which is a two-piece fishing paddle with a fiberglass shaft and polypropylene blades. The blades are available in four different colors and feature a hook retrieval cutout on the left blade. The shaft has a standard three-position, push-button ferrule for straight or 60-degree feathered operation and an integrated tape measure.
The Carlisle weighs between 41.8 and 46.5 ounces, depending on the length you select. The unique feature of this paddle is what Carlisle describes as its "wrapped fiberglass" shaft, which means they've covered the shaft with a padded plastic layer. Carlisle is the paddle brand produced by Old Town kayaks and canoes so they definitely know what they're doing when it comes to producing high-quality products and definitely deserving of a place in our top ten.
#4. KERCO Angler Pro Fishing Kayak Paddle
The KERCO Angler Pro fishing kayak is another two-piece paddle and is made with a carbon shaft and plastic blades. The center push-button ferrule has the standard straight, left, or right feathered positions which is a feature that allows you to fully customize the paddle to suit your paddling technique and style.
Specifically for designed anglers, the shaft has an integrated tape measure to measure your catch, and each blade has a cutout for retrieving snagged hooks and lines. It's available in a number of different lengths and sizes with the longest model, the 260-centimeter one weighing in at 37 ounces. This means it's not the lightest option on our list but not so much that you'll be struggling. For more information and to read other customer reviews click the button below.
#5. Bending Branches Angler Scout Fishing Kayak Paddle
BENDING BRANCHES Angler Scout 2-Piece Snap-Button Kayak Fishing Paddle; (Black...
BUILT IN TAPE MEASURE: Check the length of your catch with the tape measure (in both inches and centimeters) on the shaft. Don't...
ADJUSTABLE CONSTRUCTION: This kayak fishing specific paddle easily separates into two pieces for compact travel and storage. A...
PADDLE FURTHER AND LONGER: The fiberglass-reinforced blades offer a perfect blend of lightweight performance and durability,...
As you can see, American brand Bending Branches know what they're doing when it comes to fishing paddles as we have another one from them. The Angler Scout is the least expensive paddle offered by the company and it's a two-piece design with a push-button ferrule allowing you to customize it to how you like the angle of the blades to sit.
The shaft is aluminum, and the blades are made of fiberglass-reinforced plastic–an interesting term that means not fiberglass but better than just plastic.
The Angler Scout weighs 36 ounces so isn't the heaviest but isn't the lightest making it a good option for those on a budget but looking for a high-quality paddle from a reputable brand. Again, it's a good option for anglers due to the shaft featuring a tape measure, and the left blade has a notch for retrieving lost hooks and lines.
#6. Perception Pescador Kayak Paddle for Fishing
Another reasonable lightweight fishing paddle is the Perception Pescador which weighs 34 ounces; it's a good value paddle with an aluminum shaft and fiberglass blades. Due to its aluminum shaft and strong blades, it's pretty sturdy and can take some punishment.
Another feature that we like is its simple conventional design with a center ferrule that can adjust for straight, left, or right feathered paddling. The outer blade features a notch for retrieving tangles lines and it's very affordable making it a good choice for beginners. Check it out below.
#7. Pelican Symbosia Angler Kayak Paddle
The Pelican Symbosia Angler paddle has one of the best add-on features around – the toggle for the ferrule is a safety whistle. This style of ferrule also allows the paddler to adjust the blades to any angle from zero to 65 degrees. It can also adjust its length anywhere from 240 to 250 centimeters (94.5 to 99 inches) making it one of the most customizable fishing paddles we've looked at.
Beyond the cool safety whistle, the paddle is unremarkable and pretty heavy at 48 ounces. But its complete adjustability makes it a good choice if you're borrowing kayaks, using rental boats, or have an adjustable seat. As you'd expect, the blades have a hook retrieval notch and come in three colors, and there's a tape measure on the shaft. For more info, and to read other reviews click below.
#8. Crooked Creek Paddle Company C11390 Tournament Angler Kayaking Paddle
With polypropylene blades and a fiberglass shaft, the Crooked Creek fishing paddle has just the right mix of features for angling.
Looking at its construction, the Poly-fiber composite dihedral blades feature the notch for retrieving lost lines, along with a "dock hook" to help you pull yourself towards the shore. As well as that the paddle's shaft features laser-engraved tape measure markings, again for being able to measure your catch. It's also a two-piece paddle so it breaks into two pieces and can be adjusted into three settings to suit your style of paddling.
Very peculiarly, the company sells the paddling in three lengths, seven, eight, or nine feet long. That roughly equates to 213, 243, and 275 centimeters, respectively. But, the downside to this paddle is its weight which is 54.4 ounces, making it the heaviest paddle on our list by far.
#9. Pelican Poseidon Angler Kayak Paddle
Pelican Poseidon Angler Fishing Lightweight Kayak Paddle - Built-in Retrieval...
The Poseidon Angler Kayak Paddle is ideal for angler paddlers taller than 5'5". Measuring 98.5" (250cm) long, this paddle is the...
The Poseidon Angler paddle is made of a two-piece anti-slip grip aluminum shaft and fiberglass reinforced polypropylene blades....
This fishing paddle includes an integrated hook retrieval system directly into the blade and a high visibility measurement tape...
If you're brand new to kayak fishing and want to dip your toe in without breaking the bank then you should check out the Poseidon Angler fishing paddle which is Pelican's discounted, beginners paddle.
Features wise, it comes in three colors and like most of the paddles on our list has a hook retrieval system for pulling in your line, a notch for pulling yourself along, and a tape measure on the shaft to measure your catch.
Design-wise, the Poseidon is a two-piece design so you can take it apart for easy storage and portability, but it only comes in one length, 98 inches or 248 centimeters so make sure you know which length of paddle will suit you best before buying.
#10. Backwater Assault Kayak Fishing Paddle
And finally, we have something a little bit different. The Backwater Assault isn't like any other kayak paddle, it's an emergency paddle for use with only one hand. It's by no means your primary means of propulsion but for anglers, it can be really helpful if you need a little help to paddle towards a dock or while maneuvering for a tricky cast. It's also great if you're on a peddle-powered boat and want the paddle for grabbing things or pushing off of shoals.
The Assault has a serrated edge and a hook retrieval notch. It's made of robust plastic and comes in just one size. It's very useful to have aboard for when you want to adjust your position but don't need to get your main paddle out and as it can be used with one hand you can hold on to your rod at the same time. Very affordable and worth it in our opinion.
Conclusion: Which one Should you Buy?
And there you have it, a collection of great paddle options for kayak anglers. Remember, the most crucial factor in picking a paddle is finding one that suits your height and vessel width. Once you've settled on that, find one that is comfortable to paddle with for long periods. You can't go wrong by finding the lightest one you can afford.
If you're still on the fence about which one to buy, our top pick is the Bending Branches Angler Pro Plus. It's fully adjustable, super lightweight at only 29 ounces making it very easy to use and the fiberglass paddles are very strong and durable. All in all, easily the best paddle for fishing on the market and highly recommended by us. For the best price to read reviews click below.