Are you looking to buy a kayak good for taking out on rivers? Not sure what type is best or which are the top brands? Well you've come to the right place.
In this post, we walk you through everything you need to know about what types of kayaks are best for rivers. We also review some of the best river kayaks on the market to help you narrow down your choice. Let's get started.
Quick Answer: The Best Kayaks for Rivers
How to Choose a River Kayak: A Buyer's Guide
What kayak features should you prioritize over others? Which types are best suited for the river? If your head's swimming in questions, see the details below to ease your mind.
Kayak Types Suitable for Rivers
There are two primary kinds of kayaks: those meant for flat water and those designed for whitewater, but both are river-friendly.
Here's a look at the ideal styles for navigating through river waters:
Flatwater Kayaks
Sit-on-top: These lack a closed cockpit and are very stable compared to most kayaks (because of their width)
Touring: These narrow kayaks are typically 12 feet or longer (great for tracking) and have relatively small cockpits
Inflatable: Kayaks in this category are highly portable and good for beginners, especially in flat water
Whitewater Kayaks
River runners: These are the best for maneuverability, given that they're usually 7-8 feet long
Creek boats: Kayaks in this group are robust and about 8 feet long, again, ideal for maneuvering through challenging sections of the river
Old school (longboats): These kayaks are pretty long, around 10-12 feet, which is excellent for long, flat riverr
Inflatable kayaks: There are some inflatable kayaks specially designed for whitewater rivers. These will be composed of more durable (yet lightweight) materials, so you won't have to worry too much about puncturing it
There are a few more details to be mindful of when you buy your kayak. See the details below to inform your selection further.
Sit-on-Top vs. Sit-Inside
This is one of the most essential features you'll need to evaluate before committing to a certain style or kayak model.
On the one hand, sit-on-top models are very easy to get in and out of compared to a sit-in type. They're very wide, which contributes to their high stability, but also makes them slower.
Plus, most sit-on-top kayaks have a scupper hole (or many), which will automatically drain the kayak as you go, eliminating the need for a bilge pump (a small tool designed to help you remove water from inside the vessel).
Still, sit-inside kayaks may be easier to operate over extended periods because they are more ergonomic. The lower center of gravity and footholds in the cockpit offers a much more comfortable ride.
Another significant advantage that sit-inside designs have over the alternative is their compatibility with sprayskirts. These components are great for keeping you comfortable, dry, warm, and protected from the elements.
Hardshell vs. Inflatable
The primary distinctions between hardshell and inflatable kayaks are portability and storage capacity. (Of course, durability is another major factor; however, that's discussed in further detail below.)
Hardshell kayaks are typically made of:
Wood
Polyethylene or plastic
Fiberglass
Specialized composite materials
As you might imagine, all of these are less portable than inflatable alternatives, since you can't fold them up. Additionally, they'll inevitably be heavier than inflatable kayaks, which will affect transportation and performance.
Some paddlers snub inflatable kayaks, yet they do have their strengths. They can contain:
Polyvinyl chloride (PVC): An incredibly strong yet lightweight thermoplastic material.
Hypalon (chlorosulfonated polyethylene): This UV-resistant synthetic rubber material was discontinued in 2009, but you might still find kayaks with it.
Nitrylon: A combination of natural and synthetic rubber with polyester, even stronger than PVC.
Neoprene (polychloroprene): Known for being highly water- and oil-resistant, this material is significantly stronger than natural rubber.
Polyethylene: This is a lightweight yet highly resilient thermoplastic material.
Inflatable kayaks might also be made of various textiles that can improve their water-resistance. Generally, inflatables are significantly better for those prioritizing portability. Plus, they're very lightweight without compromising durability and offer tons of space for gear.
Types of River
The type of river you're traveling will also dictate the kayak style that is most appropriate for your excursion. Here are the main kinds you'll encounter in the outdoors.
Slow and Flat
As mentioned above, kayaks that are 10+ ft in length are ideal for slow-moving, flat rivers. This is because these vessels are superior at tracking. (Tracking is when your kayak stays on a straight course forward, even after you've stopped paddling.)
However, these kayaks' lengths work against them in tight turns and around obstructions. You can't turn and maneuver them as quickly because of those extra few feet.
Fast and Whitewater Rapids
Rapids are volatile, fast-moving rivers. Some earned the name "whitewater" because of the water's turbulence. As the river crashes into itself, it creates a frothy, white foam.
There are several types of rapids, divided into six categories by American Whitewater. The ones you'll most likely experience are Classes I-IV.
You can get away with longer models, like touring and longboats, in Classes I and II, but as you rise in rating, your boat should get shorter. For instance, creek boats and river runners are best for Class III.
In each case, make sure your kayak is specifically designed for whitewater if you're entering a river with rapids. Otherwise, you risk your safety and damage to the boat.
Length and Width of your Kayak
These two dimensions have been discussed a few times thus far. In general, the longer the kayak, the better tracking you'll experience. On the other hand, shorter models offer the best handling on rivers that are challenging to navigate, whether the difficulty is due to obstructions or natural ledges and curves.
The width determines how stable the kayak will be – discussed in greater detail below. Typical kayak dimensions are as follows:
Kayaks that measure 12+ ft long usually are 22″-25″ wide. The best example of this is a touring kayak.
Shorter kayaks between 6-12 ft long normally are 26-30″ wide. (Although, for whitewater, paddle height – and your height – are more important than the boat's width.)
Maneuverability and Tracking
As you've learned thus far, the kayak's dimensions directly contribute to how well you will be able to maneuver it and whether it will have good tracking.
Keep in mind that your skill also determines maneuverability, and the need for the extent of either of these performance factors depends on the type of river you're traveling.
Wide, slow-moving waters with no obstructions are great for kayaks with low maneuverability but strong tracking. The opposite is true of turbulent waters.
Durability
The type of material that comprises your kayak determines its durability and weight.
For example, wood is a classic material for kayaks. It offers a solid shell without the heaviness of a composite boat. However, they should only be operated in calm, soft rivers, as they don't do too well in rapids or rivers with rocky bottoms.
Polyethylene kayaks are cheap yet highly durable. Still, they can be quite heavy and may have quite a bit of drag if you hit too many rocks and abrasive surfaces, fraying the plastic.
Inflatable kayaks can be surprisingly resilient, and they have the lightweight feature on their side. In this sense, you get the best of both worlds.
Stability
The level of stability you need is directly influenced by the kayak's dimensions, as noted above. Sit-on-top kayaks win in this category, especially for fishermen. Still, this is not to say that other kayak types are not stable. Different lengths and widths may work better for you, depending on your height and the river's classification.
Storage for Supplies
Your main concern when assessing the kayak's storage capacity is how much gear you'll need to keep with you throughout your trip. Secondly, decide how frequently you'll need to access it.
For example, if you're traveling for a few days, touring kayaks may be best for you, as they have quite a bit of cargo space.
However, if you need a cheap fishing kayak, you might still have great storage space, but it'll be slightly more difficult to access since the hatches are down in the hull (unless the model features open storage space).
Weight Capacity
Are you kayaking alone or bringing a companion with you (human or otherwise)? Make sure you check how much weight the kayak can support. (Most can carry 300-650+ lbs.) Otherwise, you risk compromising the boat's buoyancy or capsizing.
You'll also need to consider the weight of your gear, in addition to you and anyone else in the kayak. Forgetting this detail will limit your capacity for essentials.
Cost
Of course, your budget plays a big role in what kayak you can and cannot get. The materials, size, and specialization (i.e., general recreational use vs. whitewater) may either increase or lower the price.
If you're a beginner, you can get away with buying a cheaper model. This way, if you have a rough start to learning how to kayak, you're not putting too much money at risk.
In general, though, quality kayaks can range anywhere from ~$300 to nearly $2,000, depending on the model and previously mentioned aspects.
Best Rated River Kayak Reviews
Now that you hopefully have a better idea of what you're looking for, below we've listed some of our favorite models in our river kayak reviews section. Check out the models below to streamline your experience.
#1.Sea Eagle 380x Explorer River Kayak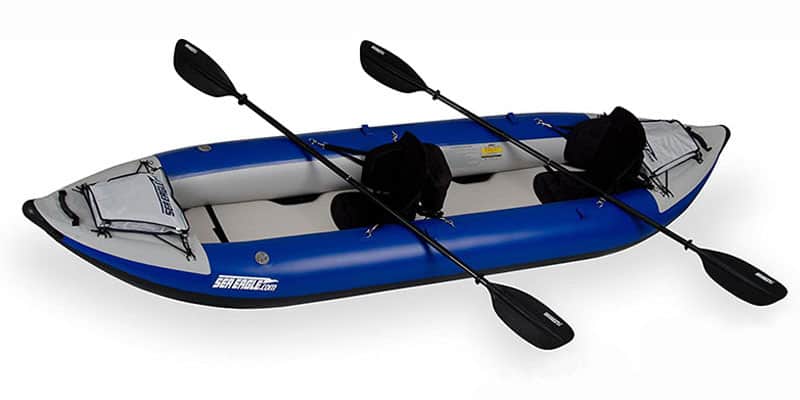 This NMMA-Certified inflatable kayak can be used for solo paddlers or as a tandem boat (up to 3 people or 750 lbs). Don't underestimate it since it's not a hardshell. This boat was made for use on many types of waters, including whitewater (up to Class IV), open water, and even down-wind sailing.
As part of the self-bailing design, there are 16 drain valves, ideal for use in whitewater.
It measures 12'6″ long, so it's excellent for tracking through long stretches of water. To make sure of this, Sea Eagle integrated a removable slide skeg into this kayak's design. Plus, the 3'3″ width will keep you stable as you go.
It's impressively durable, thanks to the 100 denier fabric and glued quadruple overlapped seams. The removable, high-pressure drop stitch floor ensures the kayak's resilience, too, keeping you safe and afloat on challenging waters.
#2. AIRE Lynx 1 Inflatable Kayak for Rivers
This inflatable kayak is equipped with 1100 denier PVC on the floor and outside and 14 mm urethane on the bladder, making it highly resistant to long periods of UV exposure and strong against abrasions.
There are two different versions available for this model – one meant for solo use (can carry up to 350 lbs), and the other tandem version (supports up to 475 lbs). Both are fast due to their long, sleek profiles; however, keep in mind that the former is shorter at 10'2″, while the tandem version is 12'6″.
In each variation of this model, you'll get a self-bailing floor that drains much more quickly than the last version, plus a double-mesh layer to keep out debris.
In terms of your gear's (and your) safety, there are cargo loops to keep your gear down and in place and low grab handles to support your recovery if you capsize.
#3. Advanced Elements AdvancedFrame Convertible River Inflatable Kayak
Next we have the Advanced Elements Advanced Frame Convertible kayak which is a really good option for anyone looking for a kayak to use on rivers. One of the most practical and crucial features to note about this model is the double air chamber design. The kayak's main inflation chamber houses two chambers inside, maximizing your safety in case a puncture compromises the outermost compartment.
Advanced Elements included puncture-resistant, triple-layer polyester material coupled with a double coating of PVC to complement this safety aspect. The welded seams ensure that the material will hold for miles and miles.
Rest assured that this kayak will excel in its performance on the water, thanks to the aluminum frame. This feature offers a major benefit by reinforcing the bow to improve tracking and hydrodynamics. Alongside the tracking fin, this ensures that your vessel will stay on track.
It rivals hardshell touring models at 15 ft long and 32″ wide and can support up to 550 lbs (2 people) if used as a tandem vessel.
#4. Pelican Sentinel 100X Sit-On-Top River Kayak
Anglers, here's an excellent kayak for you. This is first evident upon looking at the multi-chine flat hull that offers maximum stability, even for those moments where you need to lean over to reel in a powerful fish or shift your weight to cast a line.
It's relatively compact at 9'6″, making it great for maneuvering on volatile waters without sacrificing speed and stability. Their manufacturing techniques enable the inclusion of one additional flotation in the hull, ensuring the boat's buoyancy, no matter.
This model includes two rod holders and tie-downs in the removable EXOPAK, helping to optimize your storage space even further.
Pelican's kayak exceeds ABYC (The American Boat & Yacht Council) standards, ensuring that you get only the highest quality boat on the market. Because of the RAM-X ™ material – Pelican's impact- and UV-resistant substance made with Twin Sheet Thermoforming (TST) technology – you can bet on this assurance for years to come.
#5. Wilderness Systems Aspire 105 River Kayak
Wilderness Systems crafted this kayak for versatility. Though it is best suited for use on flat or slow-moving water, it does provide strong maneuverability in case you need to navigate around obstructions.
It extends 10'6″, so it strikes a good balance for handling in various calm waterways. Further, this size would best suit you if you are a medium- to large-sized paddler (140-180+ lbs, typically between 5'7″-5'10", but it's not an exact science), but it can hold up to 400 lbs.
If you find the cockpit volume doesn't accommodate you well, adjust the foot rests' locking levers to make more room. This feature, combined with the Phase 3 Air Pro seat with comfortable 3D foam for optimizing airflow, creates an ergonomic fit. There's also padding for the knees and thighs to keep you comfortable and in control of your vessel.
Speaking of control: The TruTrak adjustable skeg will keep your kayak on course at all times.
#6. Sea Eagle SE370 Inflatable Kayak For Rivers
This inflatable kayak is extremely lightweight (it only weighs 32 lbs!), yet can support a staggering 650 lbs or 2-3 people – more than some of the most formidable hardshell models out there.
It's not only strong in its ability to carry weight but also in its ability to stand up to hazards. The material is 38 mil PolyKrylar (K80 PVC), a unique high-density formula that boosts the kayak's durability. Additionally, the floor features an inflatable l-beam construction, giving the floor ideal rigidity. The seam is high-frequency welded, a process that allows the materials to retain much of their original strength, even after heating.
You can take this Sea Eagle kayak out on the rapids – just be sure that they don't exceed Class III to keep your vessel in top shape.
The kayak is 12'6″ by 2'10". Its long, narrow profile ensures speed and tracking certainty when out on the water.
#7. Aquaglide Chinook 120 Inflatable River Kayak
This kayak is best used for tandem paddling – or you're encouraged to take your fur-baby out on the water with you! Even a dog's rogue claws can't compromise this inflatable kayak, thanks to the HexShell deck cover and 600 denier ripstop polyester. This material can stand up to punctures and provides a formidable defense against environmental hazards.
The floor is reinforced by EvoBeam technology, enhancing its strength and performance on the water. Other features of the kayak's bottom include the V-hull shape and Posi-track Weedless fin that both work together to improve the vessel's tracking. (It's compatible with the universal U.S. Fin Box System, expanding this component's versatility.)
Aquaglide included several details for your convenience and comfort, like the paddler keepers on either side and the rod holders in the back, perfect for hands-free resting moments.
This 12′ by 37″ kayak is the ideal length and width for speed, tracking, and stability on gentle, flat rivers.
#8. Perception Pescador Pro River Fishing Kayak
This sit-on-top kayak is another appealing model for anglers. It features a "lawn chair style" adjustable two-level mesh seat that'll keep you comfortable whether you're casting or kicking back.
One reason it stands out from many other kayak designs is its one-piece construction. Many kayaks are composed of two pieces – the deck and the hull – yet, the single unit plays to this kayak's advantage. In this case, it contributes to its leak-resistance and adds buoyancy for enhanced safety.
This boat can support up to 375 lbs and measures 12′ by 32.5″, making it incredibly stable. It features integrated accessory rails on each gunwale, offering room for any fishing accessory you might need, like rod holders or fish finders.
Additionally, unlike other angler kayak models with enclosed storage in the hull, this kayak has open storage in the front and rear, making it incredibly easy to access your gear at any moment.
#9. Lifetime Tamarack Angler 100 River Kayak
Lifetime Tamarack Sit-On-Top Kayak, Tan, 120", Model:90237
Constructed of UV-Protected High-Density Polyethylene. Stable Flat Bottom. Deep Hull Tracking Channels. Stability Chine Rails
Multiple Footrest Positions for Different Size Riders. Adjustable Padded Seat Back and Seat Pad for Comfort. Front and Rear Shock...
Two Flush Mounted Fishing Rod Holders. One Top Mount Fishing Rod Holder
This fishing kayak was made for high stability, apparent in the deep, flat hull and chine rails. Along the bottom, there is a tracking skeg to support your ability to paddle straight and a sharp bow for speed and optimal tracking.
Storage and comfort are certainly this kayak's strong suits. There are several footrest positions to accommodate different-sized anglers, along with a padded seat back and bottom pad for a pleasant experience. There are multiple storage options to keep your gear secure: an open compartment in the rear and an enclosed hatch in the center.
This kayak is highly durable, composed of UV-resistant high-density polyethylene (HDPE), one of the most versatile and resilient plastics on the market.
This kayak is on the low end in terms of weight capacity, supporting only 275 lbs. It measures 10′ by 31″, allowing for optimal maneuverability without excess length.
#10. Sun Dolphin Aruba 10 River Kayak
This 9.5′ by 29″ compact recreational kayak is highly versatile, suitable for lake and river excursions. It's got all the bells and whistles to keep you comfortable on the water, including a padded seat, protective thigh pads, and paddle holders that keep your hands free when you're taking a quick break.
There are also adjustable foot braces in case you need to adjust a bit to fit comfortably in the cockpit.
The vessel is composed of formidable UV-stabilized Fortiflex ® HDPE. This material also ensures the kayak's resistance to deformity under high temperatures, so it's much easier to store over extended periods.
Keep in mind that this kayak can only support up to 250 lbs. Still, this is just fine for a solo paddler. You'll still have plenty of wiggle room to work with for your gear, which you can place in the designated storage compartment and accessory features like the water bottle and paddle holders.
Conclusion: Which River Kayak Should You Buy?
That about wraps up our post on the best kayaks for rivers, we hope it helps make sense of the best options out there and what you need to look for.
If you're still on the fence about which one to buy, your best bet is the Sea Eagle 380x Explorer. It's got the highest weight capacity, is comfortable, portable, not too expensive and it can stand up to Class IV rapids which all together makes it one of the best on the market and highly recommended by us.
Plus, this kayak is impressively durable and self-sustaining, thanks to the 16 self-bailing drain valves. Still, if you find that this isn't a suitable model for you, you truly can't go wrong with any of the high-performers discussed above.